Man City: Champions League history must be made - Samir Nasri
Last updated on .From the section Man City
Manchester City need to create their own Champions League history to help the club's fans fall in love with the competition, says Samir Nasri.
City entertain Barcelona in the last-16 first leg on Tuesday bidding to make the quarter-finals for the first time.
"We have had a lot of success in the Premier League so fans are really passionate," said the midfielder.
"In the Champions League we need to create our history to have this special relationship with the fans."
He continued: "And I think a game like Barcelona can be a big victory between us and the fans in the competition."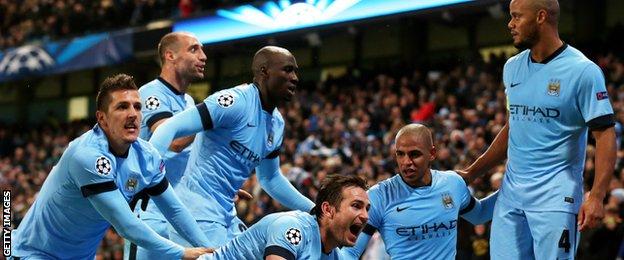 The Premier League champions failed to advance from their Champions League groups in 2011-12 and 2012-13, their first two seasons in Europe's elite club competition.
However Manuel Pellegrini's men have progressed to this stage for two campaigns in a row, being knocked out by Barcelona over two legs last time round.
"We respected them too much last year," said Nasri. "We were not experienced enough to compete with a club like this, they know how to win the Champions League.
"It was too much of a big game for us but now we are not going to be scared."
"We want to beat Barcelona because we want to go as far as possible not because of revenge. It is a different game and we are better physically than last year."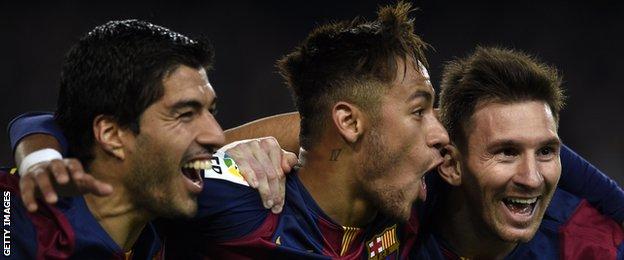 Barcelona are expected to include Argentina's Lionel Messi, Brazil's Neymar and Uruguay's Luis Suarez in their attack on Tuesday as they look to recover from a shock 1-0 La Liga defeat to Malaga.
Nasri though insists his side have their own danger men, backing up manager Pellegrini's claims that City striker Sergio Aguero is among the top five players in the world.
"Messi and Cristiano Ronaldo, they play on a different galaxy," said Nasri. "The rest, Suarez and Neymar are the same level as Sergio."
Pellegrini added: "When 100% fit, it is very difficult to stop Sergio and he is arriving in a good moment.
"Messi will continue being the best player in the world but if we just dedicate three or four players to stop Messi, there are a lot of other good players.
"One of our targets is to try to win Champions League as soon as we can."