Birmingham City Ladies out to recover from 'heartbreak' - Moore
Last updated on .From the section Women's Football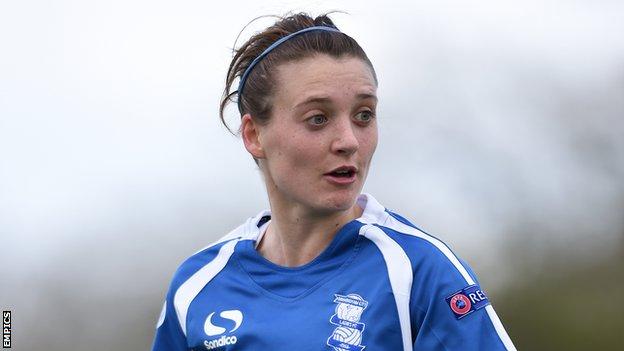 Birmingham City Ladies midfielder Jade Moore is confident that the club can bounce back this summer from their heartbreaking end to last season.
"It was a good end to a really positive season and the heartbreak is still raw but in hindsight, it was the best thing for us all," Moore told BBC WM 95.6.
"The experience we gained will make us stronger and hungry for success."
The club have now turned professional and England international Moore hopes that will help them perform in the new campaign, which begins for Blues with a home game against Manchester City on 29 March.
"We've always fought the battle of being a part-time semi-professional club," said Moore. "But we've managed to step up and be the professional club we've always wanted to be.
That dramatic day of reckoning in the WSL
Birmingham City went into the final day of the 2014 Women's Super League season in October needing to win against Notts County, while hoping that leaders Chelsea lost at Manchester City. Instead, while Chelsea did lose, Blues could only draw, and Liverpool, who started the day in third, seized the title with a 3-0 win against Bristol Academy. Blues finished third, missing out not only on the title, but a place in the Champions League.
"It should make a massive impact as we have more contact time with the coaches which will hopefully filter into the game come Sundays.
"We have a philosophy that we try and do one better than the previous season and, for us this season, going one better means we have to at least secure Champions League qualification."
Fellow England international Jo Potter also believes that the club, who signed England Under-23 international striker Freda Ayisi from WSL rivals Arsenal last month, are heading in the right direction by turning professional.
"Each year the league has got better and better," said Potter. "We finished third whilst part-time so we have to look at what we can potentially do now we're full-time.
"We've three to four players who consistently get called up internationally. It's brilliant that we have players who are so highly thought of."