Man City v Barcelona: Neither side are favourites - Luis Enrique
Last updated on .From the section European Football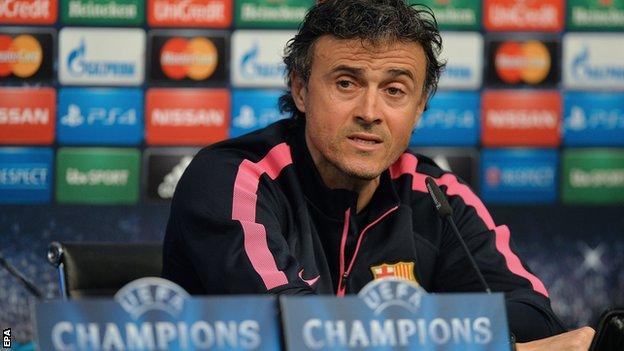 Barcelona are not clear favourites to beat Manchester City and reach the Champions League quarter-finals, says coach Luis Enrique.
The Catalan club are aiming to reach the last eight for a ninth straight season, while City have never gone beyond the last 16.
"I don't think there is a favourite," said Enrique, ahead of Tuesday's first leg at Etihad Stadium.
Barca beat City 4-1 on aggregate at the same stage last season.
Enrique said: "It is dangerous to speak of favourites in the Champions League - you have to demonstrate yourself on the field."
Midfielder Samir Nasri admitted City respected Barcelona "too much" last year and "were not experienced enough to compete". But captain Vincent Kompany said Tuesday's opponents had "nothing new to worry us".
Here is what Enrique had to say at the pre-game news conference.
Was Saturday's defeat by Malaga down to Barca thinking about Manchester City?
"The Malaga defeat was nothing to do with thinking about Manchester City. We went into the Malaga game in top condition, and were thinking only and exclusively on that game.
Was the Malaga defeat a wake up call?
"We need to change mentality for the Champions League and have got two games against a strong opponent. We need to make the best of our game to show we are the superior side."
On Pellegrini saying City will attack
"That's his declaration of intent - it means he thinks he has got the capacity to take us on face-to-face.
"If the game does develop that way it will be interesting because that's our intention too."
On his side's preparations
"We've hardly any time to train, post-game training session and pre-game training session. We have to try to get the intensity out of the players.
"After losing it is always good to have a game three days later and in a stadium like this against one of the other favourites to win the Champions League. It is more than enough motivation."
On Luis Suarez's impact at Barcelona
"He has been very positive, considering this is his first season at the club. He is one of the leading players in attack.
"There are a lot of characteristics to his play that are of benefit to us. He is a natural goalscorer, he draws centre-backs out of position and is good at finding space. He will do a lot of good things for us."
Is the gap closer between the sides than last season?
"I don't know - let's see tomorrow. We are two teams aiming to win the Champions League.
"City have made new signings but so have we. City have the same manager but we made a change when Gerardo Martino left. We will find out on the pitch."