Coventry City: Pressley exit made me question myself - Waggott
Last updated on .From the section Coventry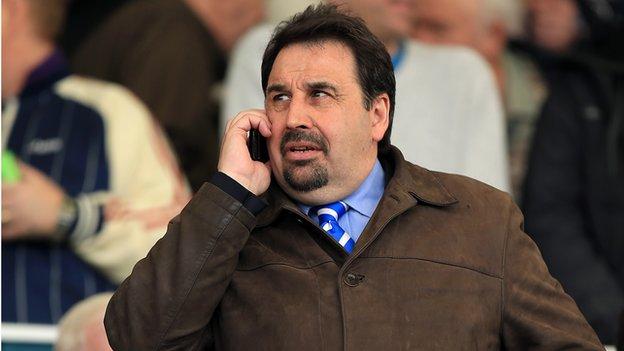 Coventry City chief executive Steve Waggott says everyone at the club must question themselves in the wake of manager Steven Pressley's sacking - and that he even considered his own future.
Pressley, 41, was dismissed after two years in charge of the League One club.
"Absolutely I question myself," Waggott told BBC Coventry & Warwickshire.
"It's time for us all, me included, to look in the mirror and say 'What can I do better? What mistakes have we made? What could have I done differently?"
He continued: "My barometer is fans thinking I make the right decisions at the right time. It's about having the fans' support.
"If I lose all of that then I've got to question where I am in terms of my professional career and where we are as a club. Managers come and go, but the club and the fans are there forever."
Coventry are now looking for their 12th manager in 13 and a half years since the sacking of Gordon Strachan in September 2001.
Who might want to be sent to Coventry?
By the end of Monday, Waggott had already received 72 enquiries about the vacant manager's post - including one from former Sky Blues favourite, 68-year-old Bobby Gould, whose long career saw him serve his hometown club as a player (1963-68) and twice as manager (1983-84, 1992-93) at Highfield Road.
"There's a potential risk as we're sitting fourth bottom, but despite the precarious position we're in, in the footballing world, Coventry are still a big club in people's eyes," said Waggott.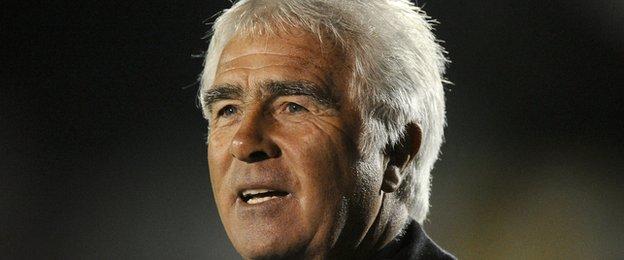 "Bobby's still got a great reputation in the game. He's always been very supportive of the club. When the unfortunate news broke, he was one of the 72 emails that I had come in.
"We will not rush a permanent appointment. It's a decision that requires a fulsome process to avoid this situation in another two years."
Steven Pressley's legacy at the Ricoh Arena
Former Scotland defender Pressley "could not have given any more" to Coventry during his time in charge and deserves credit for his efforts on the club's behalf, according to their CEO.
"There is a long-term plan here," said Waggott. "That means creating a clear pathway from academy, through development squad and into the first team, complemented by experienced professionals, and Steven absolutely bought into that.
"In terms of that long-term plan, his work and achievements should be acknowledged because we are in better shape from that point of view thanks to him and the staff around him.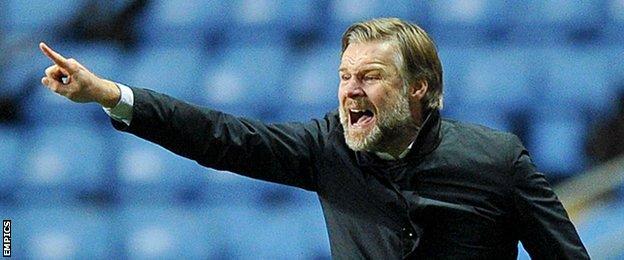 "Similarly, his efforts in maintaining our League One status last season in the face of possibly the toughest 12 months in Coventry City's history has to be recognised.
"You couldn't find anyone more passionate, He's a workaholic, like myself. But results are what people go by."
Are Coventry good enough to stay up?
Pressley left the Ricoh Arena with Coventry 21st in League One and in danger of slipping into the bottom tier of the Football League for the first time since 1959.
However, Waggott is confident they have the talent available to start climbing the table.
"Whether you pay a fee for a player or not, most agree that the squad we have here is good enough to be challenging for the top six. Successive visiting managers have pointed out the quality of our playing staff.
"We've restructured the squad over the last two summers and supported Steven in allowing players to leave because they didn't fit into the way he wanted to play and brought in players that met his requirements," he said.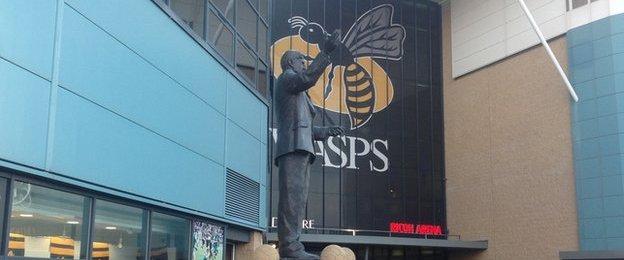 "I hear it said quite often that we won't get anywhere with kids from the academy, loans and free transfers, but I don't think many were thinking that when they saw how well Swindon played against us here a few weeks ago, and that what was pretty much the make-up of their starting XI.
"Paying a fee isn't the key at this level. It's getting the most out of your budget that really counts and I think we can all agree that we haven't done that in the past year."
Why do the owners still want to be involved?
Sisu took over the club in 2007, before being rebranded as Otium when the club went into administration in 2013.
They have so far presided over one relegation, two separate 10-point penalties for going into administration, the appointment of six managers, an ugly rent row with the local council and a highly unpopular temporary move 35 miles away to Northampton.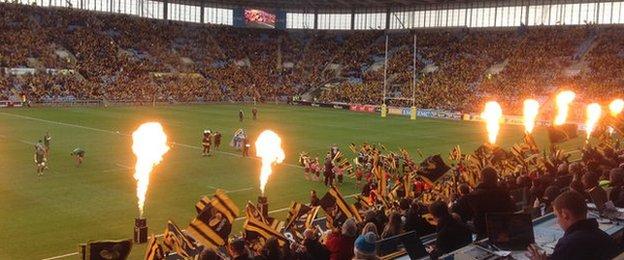 "They came in seven years ago, they bought the club and they've invested heavily," said Waggott. "But, in the just over three years since I arrived in Coventry, they've not taken one penny out. They've supported it through mostly thin times.
"Where we are at the moment, there's only one way forward. We've got to build the new stadium for the fans and unite the club. Then it might have some value."