Rangers likely to escape action over sectarian chanting by fans
Last updated on .From the section Rangers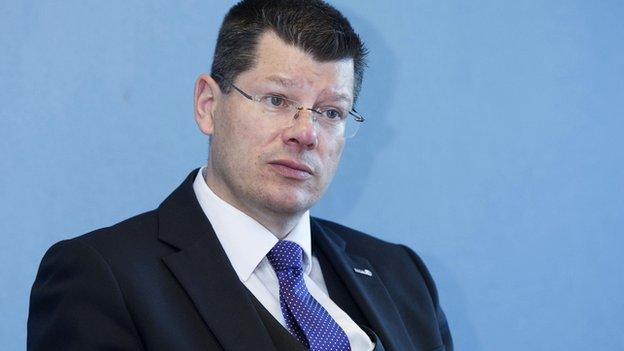 Rangers will escape punishment for fans' sectarian chants, the Scottish Professional Football League's chief executive Neil Doncaster has hinted.
The chants, heard during the match against Raith Rovers on Friday, made up part of
Doncaster said that if clubs can prove they did everything possible to prevent such singing, no action will be taken.
But he expressed his frustration at the "distasteful, shameful and selfish actions of a mindless minority".
In a statement on Tuesday, Doncaster said he hoped to "have sight of" match delegate Tom Purdie's report "within the next 24-48 hours".
He added: "It remains the SPFL's position that if it can be established that clubs have done everything required in overall management of the event pre-match, during the game and post-match, then they have no case to answer."
But he also said "the vast majority of decent fans" would "share a strong degree of anger and despair that the good name of Scottish football is once again being dragged through the mud by the distasteful, shameful and selfish actions of a mindless minority who seem hell bent on indulging in outdated and offensive behaviour".
"I know that clubs, players and many others across the game share this frustration."
Doncaster said the league body would work with the clubs and police "to do everything within our powers to act against those involved in such unacceptable conduct and behaviour".
But he warned that he would need "the supporters to play their part to help stamp out such behaviour."
Dave Scott, campaign director with the charity Nil by Mouth, which works to challenge sectarianism, was left frustrated by Doncaster's statement.
"This is the latest in a long line of disappointing statements from the SPFL when it comes to tackling sectarianism in football," he told BBC Scotland.
"We've had a lot of problems in the last two months alone, with the return of the Old Firm fixture and the events of Friday evening.
"It's about time something serious was done with this, rather than the cut and paste job with the sticking plaster."
The rules for clubs taking part in European competitions differ from the SPFL's. Uefa, European football's governing body, operates a policy of strict liability, where clubs are held responsible for the behaviour of their fans.
This policy was adopted by the FA in England last year.
Dave Scott of Nil by Mouth on Strict Liability
"There's a nearly 200-page rule book for Scottish football and nowhere in it do you find any kind of guidelines on how you deal with offensive behaviour, it's all very vague in that regard. Strict liability is Uefa's standard and what it sets out to do is very clear guidelines as to what happens if you behave in a sectarian, racist or offensive way at a match. The sanctions can include fining the club, closing the section of the stand where the singing emanated from, it can include docking points, it can include in very extreme cases, as we had in Russia, games being played behind closed doors. It's actually giving football governing bodies the teeth to do something about it, because at the moment what we've got is everybody seeking to excuse themselves from duty - clubs pointing to the SPFL, the SPFL pointing to the police."
And Scott insists it is "time for strict liability in Scottish football".
"In 2013 [the Scottish clubs] unanimously rejected it. This week we will be contacting all 42 SPFL clubs and other clubs that have voting rights at the SPFL's AGM in May and asking them to put strict liability on to the agenda," he added.
"Decent fans are fed up listening to [sectarian chanting].
"Strict liability is the way ahead. If we want to eradicate sectarianism in Scotland that is the way we have to go.
"This is a football problem. One in three of arrests in Scotland for sectarianism are related to football, so it's time football did something about it. Does it want to come into the 21st century, does it want to comply with Uefa standards, or does it just want to listen to the same old songs, the same old excuses and the same old rubbish?"
Alloa Athletic chairman Mike Mulraney, who is also on the SPFL board, said in his personal opinion that strict liability is not the way forward for Scottish football.
However, he does feel more has to be done to rid the game of sectarianism.
"There is a responsibility in the clubs first and foremost, they're our facilities that we have a behavioural problem within at certain times with certain clubs," he told BBC Radio Scotland.
"Are we doing enough? In my opinion, clearly not. Let's go and take a stand. Put your head above the parapet if you think it's wrong and say it's wrong. I'm a chairman of a club, I'm on the SPFL board, and I'm saying we're not doing enough."
In a statement released on Tuesday, Rangers said: "The club's position on anti-social behaviour is abundantly clear. The club is committed to eradicating all forms of inappropriate behaviour and continues to work tirelessly via the club's Follow with Pride campaign, and supports all initiatives aimed at tackling this problem."