Truro City offer proposed new stadium to Cornish Pirates
Last updated on .From the section Football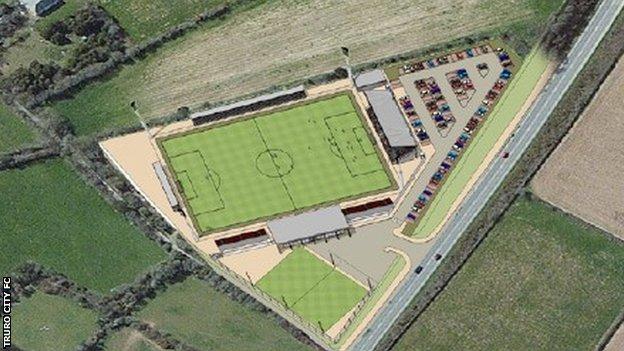 Truro City chairman Peter Masters says the Cornish Pirates are welcome to share his planned new stadium.
Championship rugby union side Pirates, along with Truro and Penwith College, hope to build a stadium of their own.
That ground would be near to the Silver Bow site of City's planned stadium.
"If people want to come and join our party, which is already funded, i.e the college or even the Pirates, there's an open invitation there," Masters told BBC Radio Cornwall.
Planners will meet next month to decide whether to approve the proposals by developers Inox for the Stadium for Cornwall at Langarth on the edge of the city.
Plans for the Stadium for Cornwall but they will only go ahead if a
"If the planning permission is not given for the supermarket on the Langarth site then the stadium is dead in the water," said Martin Tucker from Truro and Penwith College, which is investing £2m into the project.
"The key thing is there is no money from Cornwall County Council. The finding for the stadium comes purely from the acquisition of the supermarket by a supermarket retailer, and the money from the college, that is the £10m required to build phase one of the stadium."

But there are concerns that no supermarket has signed up to be part of the plans.
"At the present moment there are a couple of supermarkets that are making overtures," said Tim Smart, the facilitator of the Stadium for Cornwall bid.
"But we feel if our site wins the planning application we will get a supermarket interested straight away."
Truro City sold their Treyew Road ground to Helical Retail for £2.28m in July 2012 when the club was going through financial problems, on the proviso that no building would take place until they had a new ground to go to.
"Ours is already funded, it's ready to go, it's a package subject to the planning at Treyew Road, then providing they get planning on the Silver Bow stadium, it's a goer," Truro chairman Masters said.
"The fact of the matter is, this one is funded and it's deliverable."
A decision on the associated supermarket development for the Stadium for Cornwall will be made on 12 March.