Massimo Cellino: Leeds United president 'not returning' in April
Last updated on .From the section Leeds United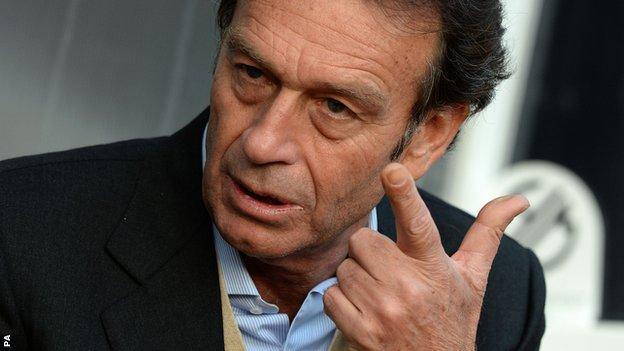 Leeds United president Massimo Cellino has announced he will not return to the club when his Football League ban ends in April in order to clear his name.
The Italian was disqualified in January from having anything to do with the running of the club until 10 April.
At the time, the 58-year-old indicated he intended to return to Elland Road when his disqualification period ended.
"I will not do so and had decided not to do so in January," he said in a statement on the club website.
Cellino intends to appeal against the legality of his ban in order to return to the club in the long-term.
He said he had waited until the club was safe from relegation concerns before announcing his intentions.
Neil Redfearn's side are now 10 points clear of the bottom three after five wins from seven matches.
Chairman Andrew Umbers said Cellino has sold the minority stake he personally held in the club and in Eleonora Sport Limited, the company which owns the club.
Umbers told the club website: "Massimo Cellino is taking this independent action so that Leeds United is seen to be fully compliant with the Football League rules and thus help the football club avoid any sanctions.
"The club are optimistic as to the outcome of the Disciplinary Panel Hearing and of the Rule K hearing."
A Football Association Rule K hearing would see Cellino take the Football League to an independent arbitration tribunal.
Who's who in the Leeds boardroom

Chairman: Andrew Umbers

Director: Daniel Arty

Director: Edoardo Cellino

Director: Salem Patel

Director: Ercole Cellino

Director: Jinesh Patel

Director: Giampaolo Caboni
He purchased a 75% stake in the club through his company Eleonora Sport last April after his takeover was initially vetoed by the Football League.
He was subsequently disqualified from owning the club in December after the League obtained documents from an Italian court, which had found him guilty of tax evasion.
After failing in his initial appeal against the decision, Cellino started his ban on 23 January after chief operating officer Matt Child clarified the club could survive in his absence.
Two of Cellino's sons, Edoardo and Ercole, remain on the club's board and the identity of the buyer of his stake is not yet known.
Cellino said: "While I am already ousted, the Football League is now pursuing a new claim against me based on circumstances that do not belong to me and have already been clarified and heavily stigmatised by my lawyers.
"The above leads me to reconfirm the decision already reached in January so that I may be free of defending myself as any normal citizen, and I will not hesitate to do so before any authority because of my honesty, my commitment and due care to the club for which I have already invested one year of hard work."