Qatar 2022: Festive fixtures must be protected - Scudamore & Dyke
Last updated on .From the section Football
Holding the Qatar 2022 World Cup in winter must not interfere with the traditional festive fixture list, the English game's key figures say.
Football Association chairman Greg Dyke and Premier League chief executive Richard Scudamore want to "protect" the Christmas schedule.
A Fifa taskforce has recommended switching the event to November and December because of hot summer temperatures in Qatar.
A final decision will be made in March.
At Tuesday's meeting of key football officials in Doha, taskforce chief Sheikh Salman bin Ebrahim Al-Khalifa recommended the Qatar tournament should be played in November and December 2022 - when temperatures drop to 25C - instead of the usual June and July date, and shortened by a few days.
There is speculation that the World Cup in the Gulf state could start on 26 November and end on 23 December. Fifa's executive committee is expected to give exact dates in Zurich on 19 and 20 March.
"We will have to wait to hear the detail but we will try to protect all the traditional Christmas dates," Dyke said.
"It will clearly disrupt the whole football calendar as it means club football stopping at the end of October."
Scudamore said: "Our particular concern is that a World Cup that finishes late in December could result in damaging one of the English game's great traditions and attractions, with the removal of the entire Premier League, Football League and FA Cup Christmas and New Year fixture programme that season.
He told BBC Sport: "We've got to make sure we keep the Christmas and New Year programme intact. We hope there is still some discussion on the actual dates, call-up times and details.
"For the integrity of a football league to have to stop for six or seven weeks is less than ideal."
Scudamore said he would now consider the Premier League's "position" and consult with other clubs, leagues and "stakeholders" before deciding on whether any further action "might be appropriate or worthwhile".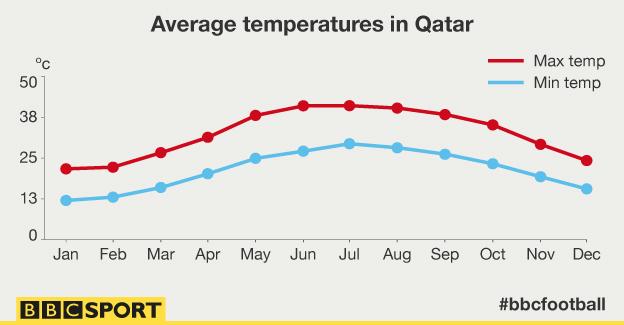 Fifa vice-president Jim Boyce said a tournament in November and December would "cause a lot of disruption" but added: "It is eight years away and people should have enough time to make it work."
He added that a final on 23 December would be too close to Christmas and Britain's traditional festive matches.
"That's the only reservation I would have and I would like it a week earlier," Boyce said.
Former England international Phil Neville told BBC Sport a winter World Cup could be the "best thing that's ever happened" to England because the players would be fresh.
But speaking on BBC Radio 5 live, Chris Waddle, who played in the 1986 and 1990 World Cups, called for a strike from players in Europe.
"It's a farce. They should all say don't go, I'm not going. Without the European teams what would they do?"
Read all the reaction to the Qatar 2022 recommendations here.