Springfield pitch may not be ready for Jersey's Royal Navy game
Last updated on .From the section Football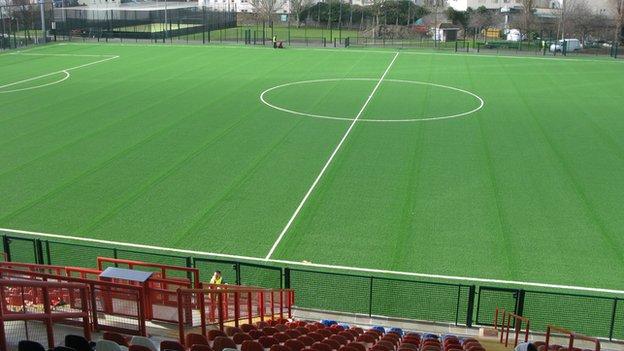 The new synthetic pitch at Springfield Stadium may not be ready in time for the first match scheduled to be played on it, according to the Jersey FA.
Jersey are due to on the new 3G surface which has been laid.
"It's going to be very tight, we need some good weather so they can finish it off," the JFA's Bob Lawrence told BBC Radio Jersey.
"We're very hopeful it'll be ready for that weekend, if not the week after."
The new £700,000 synthetic pitch, which was part-funded by a grant for the Football Association, has been laid in time for this summer's Island Games, which Jersey are hosting.
Springfield was re-developed for the 1997 Island Games, the last time Jersey hosted the event.
"What this will give us is the ability to play football on what you could say is a continuous basis," said Lawrence.
"Previously at Springfield we got a maximum of three games a week, but realistically two, so you had 50 or 60 people enjoying the facility. With this facility we're expecting 1,000 people a week to use it, so it changes the whole concept of football here.
"It's probably the most exciting development we've had in local soccer ever."