Arsene Wenger: Spotlight on Arsenal boss after Monaco defeat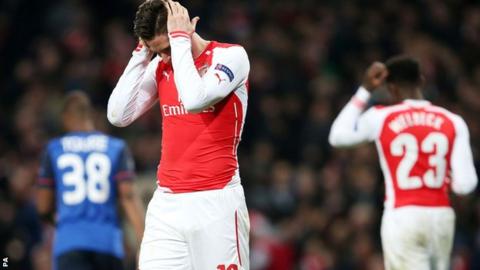 Arsene Wenger - exactly like his shambolic Arsenal team - refused to mount any sort of defence after the home defeat to Monaco left them contemplating another Champions League exit in the last 16.
Wenger, normally so loyal to Arsenal's players in public, refused to defend the manner in which they were caught cold on the break twice by Monaco, particular in the dying seconds of the 3-1 loss after Alex Oxlade-Chamberlain's goal had appeared to offer a measure of damage limitation.
He refused to defend the naivety that saw Arsenal twice caught upfield with the back door wide open. He refused to defend what he described as a loss of "nerves and rationality" in this potentially devastating loss.
And yet, for all Wenger's uncharacteristic criticism of his players, it is Arsenal's manager that once more finds his methods and management under the microscope.
Wenger under scrutiny after Arsenal debacle
Wenger has enjoyed great nights as Arsenal manager. This was not one of them - indeed it was one of his worst.
Wenger, who was Monaco manager from 1987-94, had urged caution when Arsenal were drawn against them but this was one of the easier ties the Gunners could have been handed. For a team attempting to reach the last eight for the first time in five years, an efficient and unspectacular Monaco provided an appetising prospect.
And yet, in front of an Arsenal crowd that went through the various traumatic phases from shock to panic before arriving at anger and disbelief at the final whistle, Wenger's approach was picked apart once more.
Their manager accused Arsenal of lacking patience, of failing to realise this was a tie played over 180 minutes, of chasing an equaliser with such wild indiscipline they ended up conceding another, potentially pivotal, goal.
All valid points - but what about this one? How could these clear messages Wenger wanted to convey fly so high over his players' heads? How could the plans put in place by Arsenal's manager be shredded by one goal? How could Arsenal lose their discipline in such a damaging manner?
Much of this responsibility lies at the door of the manager. At the pinch points of pressure, Arsenal's players should remember Wenger's mantra. On this horrendous evidence it flies in one ear and out of the other.
As the leader, Wenger sets the tactics and the tone. Both were a long way short of acceptable here. Arsenal did not even manage a shot on target in the first half.
It also provided further evidence for those who suggest Wenger will never lift the Champions League trophy. They will be in it but they will never win it. Is that good enough?
Arsenal's last-16 results since they last reached the Champions League quarter-final
2011 v Barcelona
Won 2-1 at home and lost 3-1 away to go out 4-3 on aggregate
2012 v AC Milan
Lost 4-0 away before winning 3-0 at home to go out 4-3 on aggregate
2013 v Bayern Munich
Lost 3-1 at home before winning 2-0 in Munich, going out on away goals after drawing 3-3 on aggregate
2014 v Bayern Munich
Lost 2-0 at home before drawing 1-1 away to go out 3-1 over the two legs
And the entire debacle provided a series of exhibits of problems Wenger has failed to resolve. David Ospina does not look a goalkeeper of the highest quality. Centre-back Per Mertesacker is desperately slow and ponderous at this level, while the manner in which Monaco muscled through Arsenal's lightweight midfield once again cried out for a central midfield player of presence and authority.
Heard all this before? Only for the last few seasons.
It is effectively a check-list of all the failings Wenger's detractors believe, with justification, he has failed to address. When it comes to the key occasions, Arsenal's squad does not look fit for purpose.
Former Arsenal and England defender Martin Keown is insistent Wenger is not in imminent danger and may be assisted by the horror which unfolded in front of him against Monaco.
He said: "This might help Wenger find a better balance with his team because the balance was not right. Wenger will be given time, he'll be given two more years to make this work and I can tell you he will not give up."
But Keown admitted a potential exit to Monaco would put Wenger in the spotlight: "It's OK to go out to a Bayern, a Barcelona or an AC Milan but to a Monaco? There are different sorts of questions Wenger will have to answer."
Wenger must now guard against renewed accusations that Arsenal wobble badly at this time of the season, especially with an FA Cup quarter-final on the agenda at Manchester United early next month.
The FA Cup final win against Hull City at Wembley in May ended a nine-year wait for a trophy but if Arsenal were to slip against United and go out to Monaco, making it another year where they have not troubled the last eight in the Champions League, Wenger will come under renewed pressure.
Wenger looked bereft at the final whistle, making understandable noises about turning the tie around at Stade Louis II but surely aware of the potential damage this defeat has done to him and his team.
Shambolic Gunners
If Monaco's deflected first goal from the impressive Geoffrey Kondogbia carried a hint of good fortune, the second and third from Dimitar Berbatov and Yannick Ferreira-Carrasco were nothing short of scandalous from Arsenal's point of view.
Caught from their own attack for Berbatov's goal, one defender in their half as Monaco advanced, then an even more criminal third goal when caution was cast aside, Oxlade-Chamberlain lost possession and Monaco's pacy substitute did the rest.
Even those of us with scratchy French had no problem getting the message when Wenger was asked by a fellow countryman what had gone wrong: "Naivete."
Wenger talks of renewed belief and mental strength in Arsenal's ranks but after a first half that was too tame, they shifted gears from first to sixth, missing out all those in between, in what seemed like a blind panic at the start of the second half, leaving themselves wide open to the counter-attack.
How Monaco made them pay and it is another old failing that has never been cured.
Former Manchester United manager Sir Alex Ferguson said after his side had beaten Arsenal 3-1 in the Champions League semi-final at the Emirates in 2009: "Arsenal play a lot of good football and get to the edge of the box regularly, so if you can get the ball you've got a chance against them."
Not much appears to have changed. Monaco's pass quota may have been 345 to Arsenal's 503 but they saw enough to punish the Gunners ruthlessly.
Arsenal were living in some sort of football dream world, with Mesut Ozil and Santi Cazorla so keen to get forward, as were full-backs Kieran Gibbs and Hector Bellerin, that defence was barely given a passing thought. Throw in a central defender in Mertesacker who was even outpaced (the term used loosely here) by the famously 'languid' Berbatov and the problems are clear.
Schoolboy teams would have felt a sense of shame at the way Arsenal's lemming-like rush forward led to those second and third goals. They reflected badly on Arsenal's players - and also on their manager.
Keown said: "The team is not professional enough. They get too caught up in the moment and they cannot afford to react to games like that. They need to be professional and step away from the emotion of it all. On the break Arsenal were continually picked off. They need a Patrick Vieira or an Emmanuel Petit."
Berbatov ruthless, Giroud toothless
Fate almost decreed that former Spurs striker Berbatov would have a hand in events - and such was his economy of movement that he scored with his one venture into the penalty area, steadying himself before a composed finish.
The 34-year-old Bulgarian plays within himself these days but still has that light touch and easy control of his best years and when the chance presented itself it was dispatched. Insult added to injury.
Of all the adjectives used to describe Olivier Giroud on Wednesday, composed would not be among them. Arsenal's French striker had a nightmare, missing a succession of presentable chances before being hooked on the hour.
Berbatov floated around the margins making his contribution, providing an outlet for Monaco, whereas Giroud headed into the area - to no effect. He had six efforts in the box that all missed the target.
When Wenger removed him, it was a merciful release.
Blistering Monaco deserve credit
As the Emirates emptied and Monaco's fans remained, they were joined by royalty. An elated Prince Albert II, wearing a grey club coat and red and white scarf, walked across to those who had travelled to watch a famous victory.
He raised his fists in triumph, conducted an interview and even had his picture taken. The job is only half done but Prince Albert likes what he has seen so far.
And why not because this was an impressive display from Leonardo Jardim's team. Strong physically, mixing the strength and stature of Kondogbia with the guile of Joao Moutinho, they were measured and controlled. Aymen Abdennour was a tower of defensive strength.
Let us not forget they were also without injured Ricardo Carvalho and the suspended Jeremy Toulalan, while their stellar Colombian names Radamel Falcao and James Rodriguez have been loaned to Manchester United and sold to Real Madrid respectively.
No matter. Monaco's defence showed why they only conceded a single goal in six group stage games and they were simply too strong for Arsenal in key areas.
The Prince looked a very happy man.
Can Arsenal do it?
The farcical defending that led to Monaco's third goal makes life more difficult and history is against Arsenal.
The only team to progress after losing a European Cup or Champions League knockout tie by two goals at home was Ajax in 1969, when they lost 3-1 at home to Benfica and won after a play-off.
Arsenal have to score three times in Monaco but are up against a miserly defence that, before Wednesday, had not conceded three goals in their last 11 matches combined.
Wenger is an eternal optimist and has a team that can score goals - but has that late strike from Ferreira-Carrasco made this a task too far? Arsenal and their manager may yet be able to turn all the harsh words back on the critics but it will take some doing.