Panathinaikos keeper Luke Steele unhappy with Greek football ban
Last updated on .From the section Football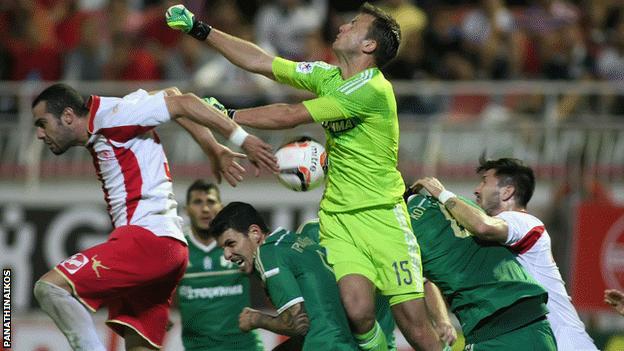 The decision to suspend professional football in Greece is "ridiculous", according to former Manchester United and Barnsley goalkeeper Luke Steele.
The Greek government announced an "indefinite" ban after violence at Sunday's Super League match between Steele's Panathinaikos and Olympiakos.
But it was later announced the ban would be for one week.
"Don't be so ridiculous suspending any matches," Steele, who moved to Greece last summer, tweeted on Wednesday.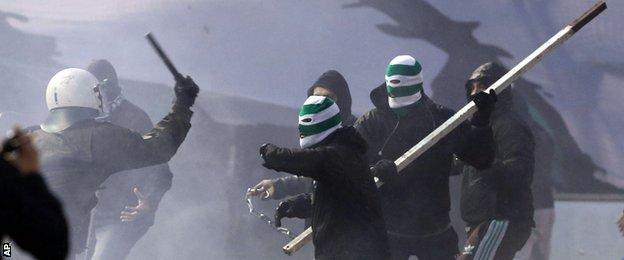 Steele helped Panathinaikos win the Athens derby 2-1.
Panathinaikos fans welcomed the visitors with a barrage of flares, while Olympiakos president Vangelis Marinakis was targeted with objects.
"Nails, rocks, bottles...this felt like the bombardment of Iraq," Marinakis said after the game.
The government took action in a bid to crack down on football violence.

The suspension also follows a brawl between club officials at a board meeting on Tuesday.
But Steele, whose former clubs also include Peterborough United and West Bromwich Albion, does not believe a ban will solve the problem in Greece.
"It's total nonsense and won't solve a thing," he added on Twitter. "The heart and effort from all players is the key."