Rangers: We don't need sectarian chanting, says McDowall

By Brian McLauchlin
BBC Scotland
Last updated on .From the section Football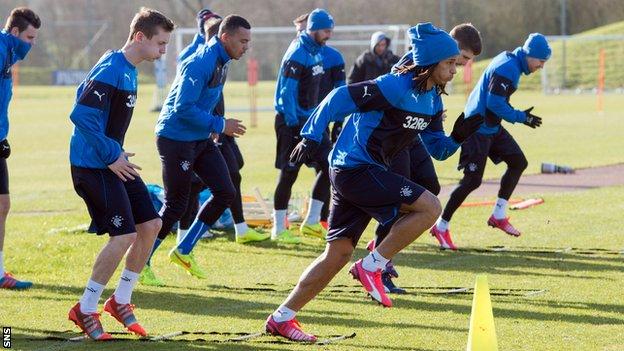 Rangers manager Kenny McDowall has reiterated the points made in a club statement on Wednesday about some fans making sectarian chants last Friday.
"Obviously we don't condone that at Rangers," said the Ibrox boss.
"The club has been working hard to eradicate it. Support your team, but we don't need it."
McDowall is in the early days of a 12-month notice period after announcing that he did not want to continue in the post he inherited from Ally McCoist, who was placed on gardening leave after handing in his notice.
Asked if he heard the songs being sung by some travelling fans, McDowall said: "I was concentrating on my job. The club's made a statement and I'll leave it at that.
Rangers statement on fans' behaviour ahead of Falkirk match
"The club is committed to eradicating all forms of inappropriate behaviour and will support Police Scotland and Falkirk Football Club in tackling this problem.
"The Rangers supporters have been magnificent at Ibrox and on our travels this season and it was extremely disappointing that a minority of supporters chose to engage in inappropriate singing during last weekend's match at Raith Rovers.
"That said, the club takes great encouragement from the fact that the majority of supporters were quick to condemn those who indulged in criminal behaviour and the club ask all supporters to act as ambassadors for Rangers when they attend our matches.
"Those who engage in unacceptable behaviour are only damaging Rangers so it is important to back the team in the correct manner and prevent the club from attracting negative comments."
"Everybody knows, it's been a long-term thing, not just our club."
McDowall's sentiments on ending the songs were echoed by supporters' group the Union of Fans.
Prior to the league visit to Falkirk, it has called on supporters to "please think of Rangers ahead of anything else".
"The Union of Fans would like to urge supporters to remember that their behaviour at the game on Friday night will once again be under intense scrutiny," the group said in a statement.
"The Rangers fans have been consistently excellent over the past few years and have attracted much deserved praise. It remains the case however that any slip will be highlighted whilst behaviour by fans of other clubs is largely ignored.
"Acts of defiance do not work. They do not shine the spotlight on the actions of others but merely turn it back on our fans. We are in a position of weakness and our club is an easy target. That will not always be the case.
"A tiny section of fans have let the club down recently by reverting to damaging behaviour which is not only illegal but tarnishes the club.
"Help us to challenge attempts to smear the club by giving those who seek to damage us no ammunition."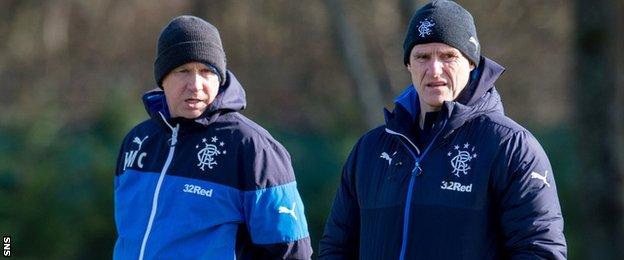 McDowall, meanwhile, has admitted that his position is not without its challenges.
"I'm trying to enjoy it, but there's a lot to take on board. It's not easy," he told BBC Scotland.
"I came here with Walter Smith and then I was very fortunate to be asked to be Ally's assistant. I would much rather Ally was sitting here and not me.
"I've just got to get on with it and do my best for the club and try keep us winning football matches.
"We need to get promotion this year and get Rangers back in to the top league."
The manager expressed his dejection that the Scottish Football Association's compliance office has challenged what he perceives to be the leniency of the two-match ban for goalkeeper Steve Simonsen.
"We're disappointed because we thought the matter had been dealt with," he said.