Safe standing: Grimsby seek to pioneer rail seats in England
Last updated on .From the section Grimsby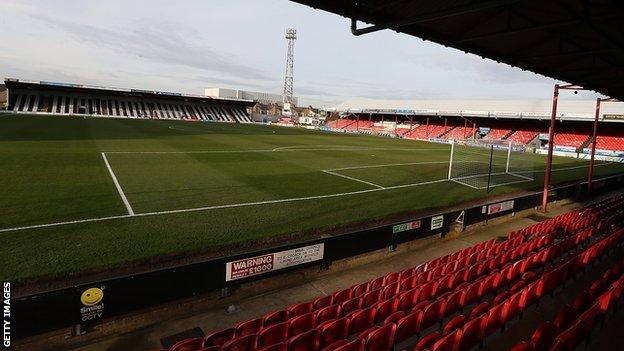 Conference side Grimsby Town want to become the first club in the country to use a safe-standing area.
However, current rules would prohibit their use if the club was promoted to the Football League, so the Mariners are seeking legislative change.
Their Blundell Park home has been all-seater since 1995.
Grimsby want to install rail seats, similar to those used in Germany and Austria, which can be unlocked or locked for either seating or standing.
"This move is in response to the effort the young fans have made to try to improve the atmosphere of late," stadium manager Nick Dale told BBC Sport.
"Current seating does not really allow for that kind of bouncing around. If you take 'the Poznan' celebration, for example, modern seating actually makes that dangerous."
"It is about time legislation responded to what the public wants," Dale added.
"We understand why the regulations were brought in but football and technology has changed a lot since then. A degree of common sense needs to be exerted."
All-seater stadiums have been compulsory in the Premier League since the Taylor Report following the 1989 Hillsborough disaster, which claimed the lives of 96 Liverpool fans., while Championship grounds must be all-seater after a club has played in the second tier for three seasons.
However, standing is permitted in League One, League Two and below.

So what stands in Grimsby's way?
At present, because Grimsby are outside the Football League, they would be permitted to install and use rail seats as long as they passed tests by the Sports Grounds Safety Authority and the local authority.

However, if the club were to gain promotion back to the Football League they would be prohibited from using any safe-standing area.

This is because the Mariners spent more than three years in the second tier (1992-97, 1998-2003). The stipulations of the Taylor Report mean that once back in the Football League, Grimsby would need to adhere to the same all-seater conditions currently placed on any club in the Championship or Premier League.

At a Football League meeting last year, most of the 72 member clubs voted in favour of introducing safe standing.
The Football Supporters' Federation has given their support to Grimsby's plan.
A spokesman told BBC Sport: "This is another step in the right direction for safe standing, and all credit to Grimsby Town for listening to match-goers.
"Nine out of 10 fans back the choice to sit or stand and we're sure the club's fans will welcome this. Supporters know it can really help improve the matchday atmosphere."

What are rail seats?
Rail seats are used at some grounds in Europe including in Austria, Germany and Sweden
They are used by a number of teams in Germany's Bundesliga, including Bayer Leverkusen, Borussia Dortmund, Hamburg and Werder Bremen
The seats can be unlocked or locked, to create either a standing or seated area. In Germany, the seats are put up for league games, but lowered for European matches

Bristol City displayed a section of rail seats at Ashton Gate but they were only for demonstration purposes.