Jonas Gutierrez could return for Newcastle after cancer recovery
Last updated on .From the section Football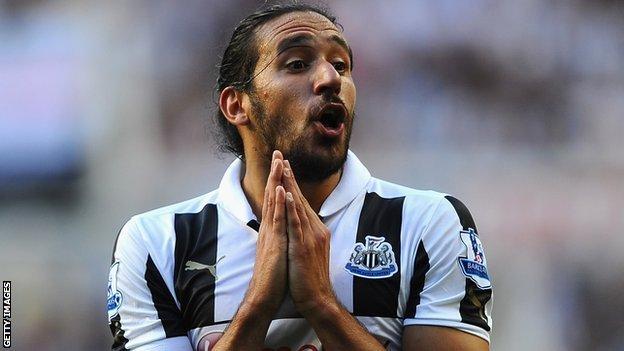 Newcastle United midfielder Jonas Gutierrez could make his first Premier League appearance on Saturday since overcoming testicular cancer.
Magpies boss John Carver said the 31-year-old could be on the bench for the home game with Aston Villa (15:00 GMT).
"Jonas Gutierrez is in the squad," added Carver. "There's a possibility he could be on the bench and that's a massive lift for everyone."
Argentine Gutierrez underwent surgery last September.
He made a winning comeback when he played for 87 minutes as captain in an Under-21 Premier League Cup win over West Ham in December.
But Gutierrez, who has made nearly 200 appearances for the club since joining in 2008, has not played a Premier League match since last April when he was on loan at Norwich City.
Gutierrez had surgery to remove his left testicle in Argentina before undergoing chemotherapy treatment.
He returned to training with Newcastle in November.
Testicular cancer - facts
It usually affects men between the ages of 15 and 49
It is relatively uncommon, accounting for 1% of all cancers that occur in men
It is one of the most treatable types of cancer. More than 96% of men with early-stage testicular cancer will be completely cured
Go to the NHS website for more details