Linfield confirm Grant McCann will leave to take up coaching role
Last updated on .From the section Football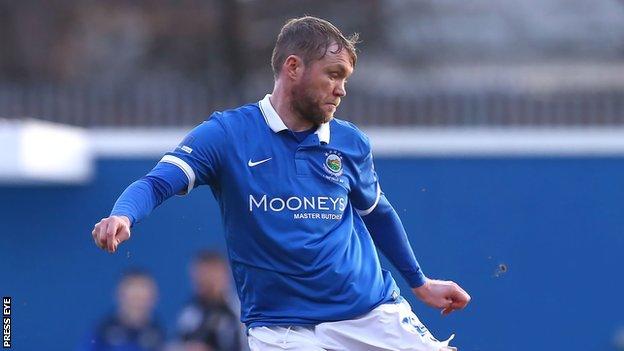 Linfield have confirmed that Grant McCann is to leave "with immediate effect" to take up a coaching role with his former club, Peterborough United.
The former Northern Ireland midfielder will assist temporary manager Dave Robertson at the League One club after Darren Ferguson was sacked last week.
McCann, 34, signed a six-month playing contract with the Blues in January after leaving the London Road outfit.
It had initially been thought that McCann would combine the two roles.
Linfield manager Warren Feeney acquired the services of the lifelong Blues supporter six weeks ago, despite competition from a number of English sides.
He indicated on Wednesday however that he would not "stand in the way" of his "close personal friend" pursuing his coaching ambitions at a club where he spent five years as a player.
"His family is over there and this is a great opportunity for him at a club where he's so highly thought of," said Feeney.
"He's been phenomenal since he came into our changing room. His vast experience has been of great benefit and he fulfilled a lifetime ambition by wearing our blue jersey.
"It's great that he could go on and become another Northern Ireland coach making a name for himself in the game - he and his family are devoted Bluemen and as part of the deal, he will be doing his utmost to help us out player wise.
"He's a great player, a great lad and I'm sure he'll make a great coach. He turned down clubs across the water to come and play for us.
"I just want to wish him every success in his new role and his new challenge. It's a great opportunity and one I'm sure he will relish at a club he knows well."
Peterborough chairman Darragh MacAnthony has asked McCann and Aaron McLean to assist academy manager Robertson until a permanent appointment is made.
"It's been a great time for me and I feel really sad to be leaving. I just hope that everyone can understand my situation. I am leaving with a great deal of sadness," McCann told the Linfield FC website.
"This opportunity I've been offered doesn't come along very often. Having spoken to the chairman at Peterborough, he's told us that if we do well, he'd like to keep us in the job."
McCann will remain with the Posh until the end of the season no matter what the managerial situation is, with a spot open to him on the academy coaching team if Robertson returns to the post.
"It's great news," said Robertson. "I'm really pleased, I've worked with Grant in the past as both a coach and a manager.
"We work really we together and have a really good working relationship. We bring different aspects to the mix."