Keith Curle defends Carlisle United set-up amid player appeals
Last updated on .From the section Carlisle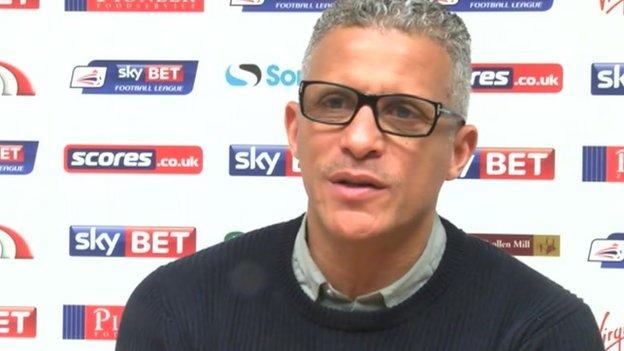 Boss Keith Curle has defended Carlisle United's training structure after players Billy Paynter and Gary Dicker appealed fines for missing sessions.
BBC Radio Cumbria understands Paynter, 30, and Dicker, 28, refused to attend training sessions for players not in the first-team squad, triggering fines.
The Professional Football Association confirmed they are assisting the duo.
"We have qualified people who set the content of those sessions," Curle told BBC Radio Cumbria.
"Their responsibility is to make themselves available at those particular times if they are of the right fitness capabilities.
"As long as they're being asked to do a reasonable amount of training at reasonable times and specific training for their profession [they should attend].
"I can see why anyone would complain if they had to turn up at eight o'clock for a game of badminton if it wouldn't help their career."
Midfielder Dicker has not featured for 13 weeks and Paynter last played in early December - partly through injuries to both players - but Curle remains open to a return for either player, regardless of the current situation.
"I've not closed the door on anybody's career at this football club," he added.
"People have chosen to leave and further their careers elsewhere, we've put players on transfer list and when we've done it they've always been told individually their career is not over - unless they deem it to be.
"Being on the list is a chance for them to get match time, go and get their form again, regain their confidence, and come back to show what they can do."