Ashley Barnes is coping with Nemanja Matic aftermath - Dyche
Last updated on .From the section Football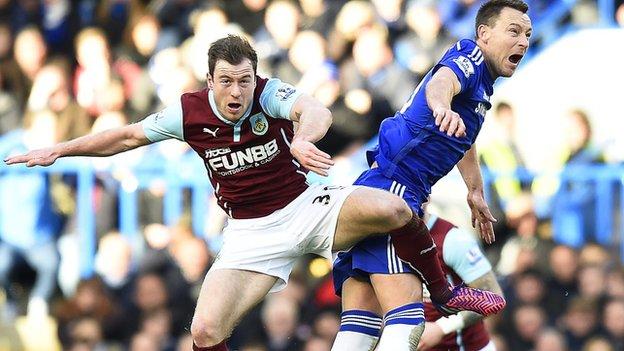 Ashley Barnes is a "steady lad" coping with the fall-out from his tackle on Nemanja Matic in Saturday's draw at Chelsea, says Burnley boss Sean Dyche.
Matic was sent off after reacting angrily to being struck on the shin with Chelsea boss Jose Mourinho describing the challenge as "criminal".
"I just want Barnes to continue playing with the freedom he has been playing," said Dyche.
Barnes was not punished during the match and faces no FA action.
The FA confirmed that because referee Martin Atkinson saw the incident and took no action against the striker at the time, it will not be "re-refereeing" the challenge.
Dyche added: "It's not something that has come his way before but he is a steady lad.
"He's been doing tremendously well for us and the lads are obviously all round that situation, as are the staff, so it's onwards and upwards for him."
Matic was handed a three-match ban for violent conduct reduced to two games after Chelsea lodged an appeal. He will miss Sunday's League Cup final and Wednesday's league match at West Ham.
Dyche on his relations with Jose Mourinho
"Every manager works on behalf of themselves, their team and their club, and every manager has the right to conduct themselves in any way they see fit.
"I have my way of working and I choose my way to deliver messages or to look at situations to look how I operate.
"I have my style and others have theirs. It's just the way it is. It's just the way I have been brought up.
"I think [Jose Mourinho] is a fantastic manager, it's a fantastic club with fantastic players.
"These are just flashpoints that can happen in football."