Mikael Silvestre: Arsene Wenger must be more ruthless at Arsenal
Last updated on .From the section Arsenal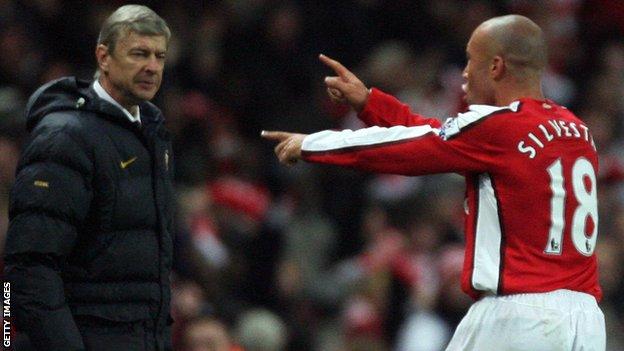 Arsene Wenger needs to change his style and be more confrontational if he is to have more success, says former Arsenal defender Mikael Silvestre.
Silvestre, 37, who won the Champions League with Manchester United, believes Wenger is too relaxed with his players.
"It brings confusion because they don't take responsibility," he told BBC Radio 5 live.
"They have let the manager down and let themselves down. Sometimes it's better to tell things straight away.
"He will have time to put things straight but he has to be ruthless with these players to keep them on their toes for the whole season."
This season can still be a success
Former Arsenal manager George Graham believes Wenger has plenty to play for this season despite the shock of the defeat to Ligue 1 side Monaco.
The Gunners are third in the Premier League, travel to Manchester United in the quarter-finals of the FA Cup and can still turn around their Champions League fortunes in the second leg.
Arsenal's last-16 woe

2011 v Barcelona

Home: 2-1; Away 1-3: Agg: 3-4

2012 v AC Milan

Home: 3-0; Away: 0-4; Agg: 3-4

2013 v Bayern Munich

Home: 1-3; Away: 2-0; Agg: 3-3 (out on away goals)

2014 v Bayern Munich

Home: 0-2; Away 1-1; Agg: 1-3
"I think at the end of this season there will be a lot questions asked but I still think they will finish in the top four," said Graham, who was in charge of Arsenal for nine years.
"And I think they have a great opportunity even against Manchester United in the cup. It's amazing how things can be turned around.
"If they finish top four and win a trophy they will be thinking it's a decent season again."
Wenger will be given time
Ex-Gunners goalkeeper Bob Wilson does not believe Wenger is under any more pressure after the midweek defeat at the Emirates Stadium.
And he thinks the Frenchman's current side has the potential to be one of his best since he joined the club in 1996.
"Arsene will go when he chooses to go, I'm certain of that, then people will get what they want - the headline 'Wenger to go'," Wilson told Radio 5 live.
"I think this side have the potential to be one of the best sides he's had for a long, long time, they have just got to pick up."
We knew how Arsenal would play
Monaco forward Dimitar Berbatov says Wenger's attack-minded philosophy was the reason they were beaten in the first leg.
"Arsenal have very quick players, when they go forward they have a leave a lot of space at the back," said the former Tottenham, Manchester United and Fulham striker.
"We knew that, we prepared well and we took advantage of it. We knew what their weaknesses were and we exploited them."
However, the 34-year-old Bulgarian insists the tie is not over, despite Arsenal needing to score at least three times in the return match.
Berbatov added: "This is Arsenal, so it is not over."