St Mirren fans urged to back Jeroen Tesselaar over article
Last updated on .From the section St Mirren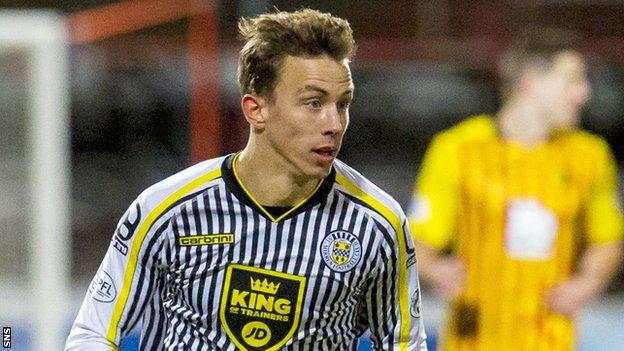 Manager Gary Teale has urged St Mirren fans to get behind Jeroen Tesselaar after the left-back denied making disparaging comments about Paisley.
The Dutch defender says the reporter's words in a magazine in his homeland were wrongly attributed to him.
"We could have done without it, but it's gone now and we just hope everybody gets behind us and we are all going in the one direction," said player-boss Teale of the 26-year-old.
"He was a bit upset, but we move on."
Tesselaar, who returned to the Buddies from Kilmarnock last summer, said he was shocked at the article because the Voetbal International interview was supposed to be primarily about his photography hobby.
"Anybody that knows Jeroen and his affection for the club, and the fact he came back, they are not comments you would ever have thought would have come from Jeroen," suggested Teale.

Tesselaar, who spent the 2011-12 season with St Mirren after leaving AZ Alkmaar, earlier issued a statement on the club website.
"When translated into English, the majority of the article is very negative and most quotes are not what I said and others are observations of the reporter which seem now to have been attributed to me," he said.
"I enjoyed living in Paisley the first time I was here for a year and many of my photographs on my website are of Paisley and the surrounding area showing the town and area in a very positive light.
"I told the reporter that I live in Glasgow now as my girlfriend works there and so it was more suitable.
"I have great respect for the St Mirren fans as, I told the reporter, Paisley is not a rich town yet the supporters follow the club very passionately home and away and the club is very important to them, yet this seems to have been turned against me too.
"I came back to St Mirren as I loved being here the first time and I enjoy my football here."
Meanwhile, St Mirren have announced the appointment of lifelong fan and local businessman Ian Henderson to the board of directors with a remit "to work to enhance and improve the commercial aspects of the club".