Jose Mourinho: Chelsea manager values importance of League Cup
Last updated on .From the section Chelsea
Chelsea manager Jose Mourinho believes he has changed the way Premier League clubs approach the League Cup.
"Lots of teams have followed us since then when we took the League Cup as a real competition, as a real challenge. It is a big competition," he said.
Chelsea face Tottenham in the League Cup final at Wembley on Sunday.
The Blues will be without midfielders Nemanja Matic, who starts a two-match suspension and Jon Mikel Obi, who continues to recover from a knee injury.
'Focused on final'
Mourinho admits he is looking forward to reclaiming a trophy he last won in 2007.
"I just think about the moment - only this game. We have a final to win and nothing else matters," said Mourinho.
"I don't think if we win the cup final we will win the league, or if we lose it we will lose the league.
"It is just a game we have to play and after that the cup talk is over."
Tight-lipped on Matic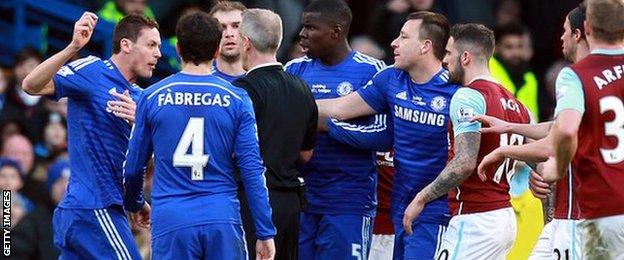 Mourinho refused to answer questions about suspended midfielder Nemanja Matic and his sending off against Burnley for violent conduct.
"I can't give you my views on that," he said.
"It's bad for me. If I speak to you about that, I promise you I will be in big trouble."
Chelsea contested an original three-match ban for Matic and Mourinho was critical of the handling of a "criminal" challenge by Burnley's Ashley Barnes.
Players 'complicate things'
Following his rebuttal on the Matic saga, Mourinho was asked at his press conference for his views on the officials ahead of Sunday's final.
A club press officer intervened to say: "the club does not comment on officials in the lead-up to a game, it's in the competition rules."
But that could not prevent Mourinho from sharing this thought.
"I don't believe that anyone involved in this game doesn't want to do his best," he said.
"I believe all three teams [Chelsea, Tottenham and the officials] will go with the same ambition - to do very well and hopefully even the players that like to complicate things, they will try to make the final a big final."
When later asked to expand on the phrase "complicate things", Mourinho elaborated: "The players that dive, looking for fouls. The players that dive, looking for cards.
"Every two to three matches, there are simulating and pretending they are under aggression. We are in the same industry in the same country, so you don't need me to say any names."