Cardiff City: Vincent Tan still committed despite debt says Slade

By Rob Phillips
BBC Wales football correspondent
Last updated on .From the section Football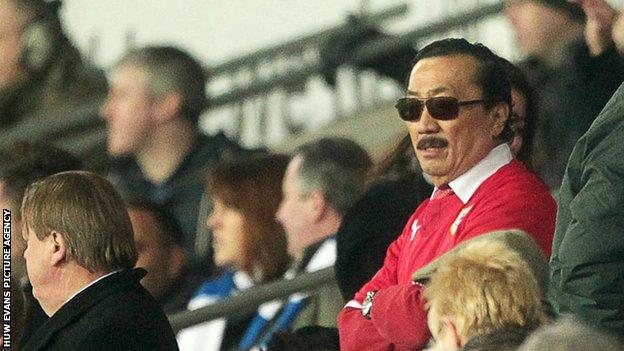 Cardiff City manager Russell Slade is confident of owner Vincent Tan's continued commitment to the Bluebirds.
The club's latest accounts reveal the Welsh club are £174m in debt, more than £120m of which is owed to Tan.
They also show Cardiff lost £12m during their Premier League campaign which ended with relegation to the Championship last summer.
Slade said: "The figures are staggering - the amount of money and support he has given to the football club."
"Do I see that changing? No, I do not.
"But I can understand why he wants it run more conservatively, on a more sound financial basis."
Since arriving in October, following the departure of Ole Gunnar Solskjaer, Slade has slashed the wage bill, off-loading a number of players during the January transfer window.
The former Leyton Orient manager was therefore not surprised by the club's latest financial results, but insisted progress can still be made despite the balance sheet.
"We have had to make adjustments," said Slade.

"Fans and people don't want to see or hear of cutbacks in a football club because they see that as a negative thing.
"That does not have to be the case. We can still move forward. But we want to move forward on a stable basis financially.
"We don't want to get in a situation where the fair play rules kick in and we are in trouble in the future."
Slade said the financial situation did not add pressure on him.
"I knew the situation, I knew we had to make those cuts. It wasn't a shock or a surprise.
"We have dealt with that to a certain extent and as I have always said, there is more work to be done in the summer. But that does not mean it is going to make is a lesser group or a lesser team going forward."
Cardiff are currently 13th in the Championship, 13 points and five places below Wolves who they host on Saturday.