Why do Arsenal feel stuck under Arsene Wenger?
By Amy Lawrence
Football writer
Last updated on .From the section Football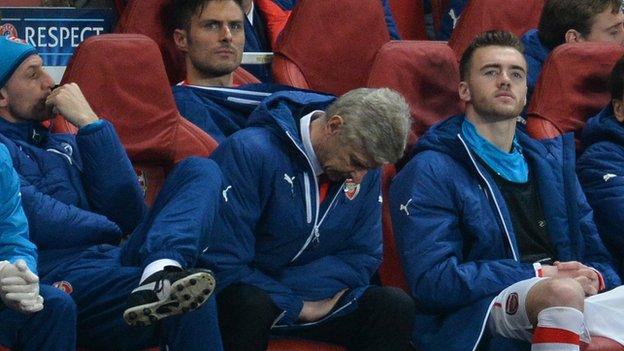 The self-inflicted manner of Arsenal's defeat at home to Monaco on Tuesday opened up a lot of old wounds.
The questions, the criticisms, were all very familiar and it's the nature of life under a long-serving manager that a chastening game quickly spawned a broader discussion about life under Arsene Wenger.
On the one hand, third place in the Premier League, an upcoming FA Cup quarter-final and the impressions made by moments of brilliance from Alexis Sanchez and Santi Cazorla this season hint that Wenger is on the right track.
The flipside is a sense that Wenger's Arsenal can't shake the ability to trip themselves up, and there is only so far they can go.
So why do Arsenal feel stuck under Arsene Wenger?
Wenger is the last great autocrat in Europe
As Jose Mourinho never tires of pointing out, Arsene Wenger enjoys a security at his club that is unique. The principle is noble in an era where sackings are commonplace and only one Premier League manager apart from Wenger has been in his position for more than three years (Sam Allardyce at 3 years, 8 months).
Arsenal are unshakeably committed to their man. They back him, unquestionably, and have in recent transfer windows supported him to buy at the top end of the market. Arguably, though, they are loyal to a fault. Stan Kroenke, the American majority shareholder, is perfectly happy to let Wenger run the show exactly as he wishes.
Arsenal's last-16 woe

2011 v Barcelona

Home: 2-1; Away 1-3: Agg: 3-4

2012 v AC Milan
Home: 3-0; Away: 0-4; Agg: 3-4

2013 v Bayern Munich

Home: 1-3; Away: 2-0; Agg: 3-3 (out on away goals)

2014 v Bayern Munich
Home: 0-2; Away 1-1; Agg: 1-3
Is this healthy? There is no pressure from above. Nobody at board level would challenge Wenger directly about the way he manages his resources.
As chairman Sir Chips Keswick memorably said at the last Arsenal AGM, "If he has a plan, we back him. If he doesn't we won't say anything." The only person who will have any say on whether he does or doesn't see out his current three-year contract is Wenger himself.
Wenger's tactical theories are outdated
When Arsene Wenger coached his 2003-04 team to an unbeaten season, he experienced something few managers are lucky enough to find in their careers. He put together a team so well connected with one another they rarely even thought about their opponents.
They only concentrated on themselves, such was the confidence in their blend of power and panache. It set a standard for Wenger. He often repeats his mantra of "we like to play the game we love" but this idealism is not always realistic. In today's climate, it seems crazy to be so laissez-faire about the opposition.
With a sensational team it would be just about understandable, but given that his current group has well-known weaknesses - their defending shows a susceptibility to counterattacks, and their precision passing game can be predictable against compact opponents when the forward players are super-sharp - it's just too risky.
After winning at Man City, are they confused?
There were moments, both at the beginning and at the end of Champions League calamity against Monaco, when it looked as if Arsenal were struck by an insecurity about whether they should go for it or be cautious.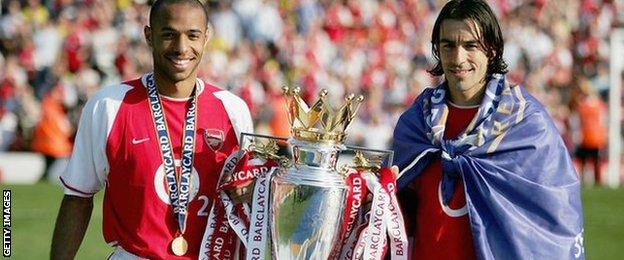 Indecision is usually fatal in elite sport, and Wenger's team have had an interesting few weeks trying to find the balance between their old Plan A (the game we love) and Plan B. "Plan B?!" we hear you cry.
But there it was, executed perfectly six weeks ago at Manchester City. Here was the more savvy, tactical blueprint. Less possession, greater concentration.
Arsenal discovered a new solid platform from which to spring attacks. But they have at times since looked uneasy trying to replicate it, or absorb it into their usual way of playing, as if they haven't quite made their mind up about how they want to play.
Too many players of similar style
There appears to be nothing Wenger likes more than adding to his collection of technically gifted, central attacking playmakers.
The number of Arsenal's squad who would probably regard this as their ideal position is high. This season alone, Santi Cazorla, Mesut Ozil, Alexis Sanchez, Jack Wilshere, Aaron Ramsey and Tomas Rosicky have had turns in the pivotal role.
In a bid to fit as many of these creative outlets into his team, some have to play either deeper, or wider, than is preferred.
Adding Olivier Giroud, Danny Welbeck and Theo Walcott into the mix, there is no question that the attack is well manned in terms of numbers and options. The same cannot be said in defence, where Per Mertesacker has been played into the ground and looks like he needs a rest.
Likewise in midfield, Francis Coquelin has been shouldering all the defensive responsibilities. Injuries in that department haven't helped, but the crucial Matic-esque position still needs addressing.
There is an unhealthy split in the fanbase
The 'be careful what you wish for' camp sits on one side. The 'does Wenger get the best out of his players and the club's funds' camp sits on the other.
It's an argument that flares up in the aftermath of defeat, and goes on the back burner in moments of triumph.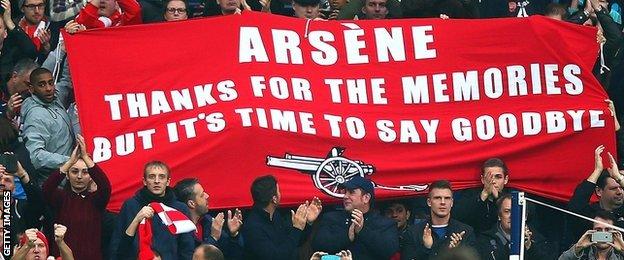 There wasn't much heard on the Wenger debate when Arsenal celebrated winning the FA Cup last May.
But it feels as if the only thing that could extinguish it properly would be a Premier League or Champions League win, both of which can be filed under "miracle/mirage" for this season.
Arsenal were obviously frustrated by the defeat to Monaco in itself, but in a broader context, it forced the Wenger dilemma back onto centre stage at a point where Arsenal had generally been in a positive frame of mind.
Although players tend not to get too involved in bigger-picture issues involving managers or owners, it cannot be helpful for any club to have its fans so evidently disunited.