Manuel Pellegrini: Manchester City 'must keep fighting to retain title'
Last updated on .From the section Football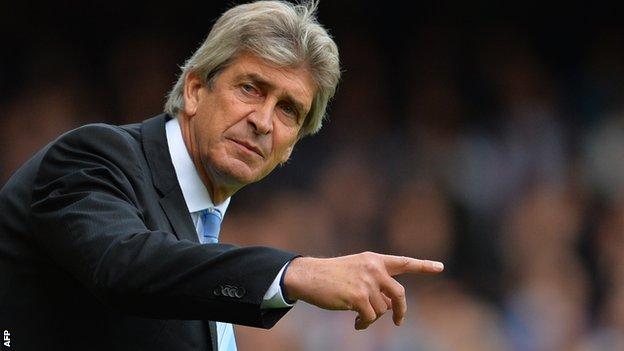 Manchester City must keep fighting in the race for the Premier League title, says manager Manuel Pellegrini.
A win for City at Liverpool on Sunday will move them to within two points of league leaders Chelsea.
"It is very important to beat Liverpool and to continue winning in the Premier League, and continue fighting until the end to retain the title," the Chilean reflected.
"As soon as we close the gap it is better for us," he added.
On the gap to Chelsea:
"Of course it is important, and more than psychologically it is important mathematically.
"If we are going to have three points more, we are going to go two points behind Chelsea."
On Liverpool's disrupted preparation:
"I think that of course it is an advantage, [but] not a decisive one because I always think the decisive thing is the performance on the day of the game.
"If we think we are going to win that game because Liverpool arrived yesterday night late, that is not the reason.
"But I have played in the Europa League and when you arrive on Friday it is not the best way to prepare for a game on Sunday - but that is the rules," he added
On English teams' performance in Europe:
"I don't think it is about the level of English football but I think there are a lot of things that maybe are important reasons why the results have happened.
"The Premier League is very strong and every game you must play 95 minutes at 100 per cent intensity. Maybe in other leagues it is not so hard every game.
"In December and January, especially in December, you have to play nine games. Last year we played 18 games in two months. Maybe it is not the best way to prepare for the knockout stages in Europe," he said.