Celtic face two Uefa conduct charges after Europa League loss
Last updated on .From the section Football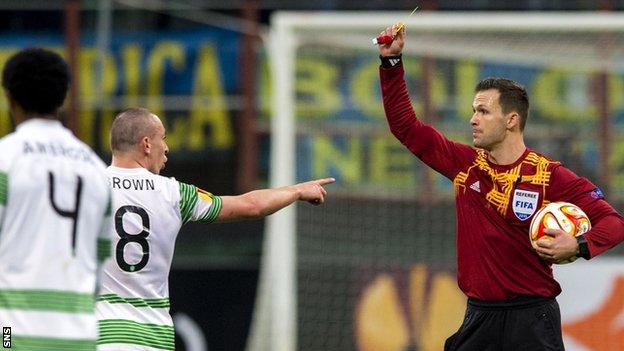 Celtic have been charged on two counts of improper conduct by European governing body Uefa following their Europa League defeat by Inter Milan.
They relate to the setting off of fireworks by supporters - and the team's on-field discipline.
Celtic received seven yellow cards, including two for defender Virgil van Dijk, who was sent off during their 1-0 last-16 loss in the San Siro Stadium.
The club confirmed in a statement that they plan to contest the latter charge.
The charges will be heard by Uefa on 19 March.
There will, however, be no investigation into the performance of referee Ivan Kruzliak.
That was described as ''horrible'' by Van Dijk, with manager Ronny Deila claiming even the referee himself would not be happy with it.

A spokesman told BBC Scotland: ''The referee's performance will be evaluated by the referee observer.
"These are considered when future appointments are made but there will be no investigation.''
The Uefa charge over on-field discipline is automatic once a team receives five yellow cards.
A club spokesperson said: "UEFA rules state that they are able to open disciplinary proceedings against any club which receives five or more bookings.
"Celtic can confirm that this is a charge which the club will be contesting."
The club won't challenge the charge for setting off fireworks. It is the sixth time in three years that Celtic have been charged over supporter behaviour.
On Wednesday, Uefa fined Celtic £7,300 for crowd disturbances that followed the use of fireworks in Croatia during their Europa League group stage match against Dinamo Zagreb.
A statement on the Celtic website read: "Over 3,000 fans travelled to Milan and once again supported the club brilliantly. Everyone at Celtic thanks these fans sincerely for the magnificent support they gave the team on another European occasion.
"It is important to note that Inter Milan and the local Italian authorities have also applauded our fans for their excellent conduct and positive support.
"Unfortunately, one or two individuals have again damaged the club they claim to support, resulting in a further Uefa charge for the use of flares.
"Today we have been inundated with support from Celtic fans who want an end to this activity and, like the club, do not want those responsible associated with Celtic in any way.
"We would urge anyone with information on who these people are to get in touch with the club so that we can deal with this matter and get back to celebrating all that is great about our club."