Qatar 2022: World Cup final 'no later than' 18 December - Blatter
Last updated on .From the section Football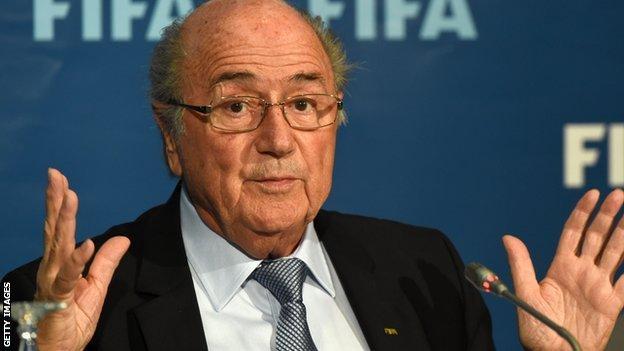 The Qatar 2022 World Cup final should be played no later than 18 December, says Fifa president Sepp Blatter.
A Fifa taskforce has recommended a November/December tournament and held discussions about a 23 December final, which would affect domestic schedules.
Premier League chief executive Richard Scudamore wants to "protect" English football's festive fixture list.
"We have to stop at the 18th," said Blatter. "The World Cup will not go on until the 23rd, definitely not."
The 78-year-old is in Northern Ireland for this weekend's International Football Association Board (IFAB) meeting and admitted some leagues were "not so happy" about a winter World Cup.
"It's so good now to make a little bit of noise about FIFA and about the World Cup in Qatar," said Blatter. "There are more than six years - particularly seven years - to prepare. And there is a goodwill."
Former Manchester United CEO David Gill said clubs will have "big enough squads" to cope with playing on Boxing Day, eight days after a possible World Cup final.
"There will have to be compromise on all fronts. So, friendlies given up, there may be some FA Cup replays [that go], League Cup semi-finals being one legged.
"Everyone's going to have to do it. It's like any negotiation. If one person thinks they've won hands down then the other person's going to be upset."
Uefa executive committee member Gill, who wants to replace Jim Boyce as Britain's Fifa vice president, was asked if European clubs would boycott Qatar 2022.
"In a word, no," he replied. "People threaten things and rarely take them through. It is the preeminent competition, the World Cup. Players want to play in it. Clubs want their players to play in it. The public wants it.
"Let's be serious - people might threaten it, people might sort of say they're going to do. In my opinion that will never happen."
Europe's governing body Uefa said this week that it wanted the World Cup to start on 26 November and end on 23 December.
Possible 2022 timeline
Early November: Premier League pauses
26 November: World Cup starts
Early December: Group stages finish, half the players return to clubs
Through December: More players return home after knockout stage exit
Sunday, 18 December: World Cup final
Monday, 26 December: Premier League returns on Boxing Day
On Tuesday, the taskforce meeting in Doha proposed holding the tournament in November and December due to the extreme heat in June and July when football's showpiece event usually takes place.
Summer temperatures in Qatar can exceed 40C while those in November and December drop to around 25C.
Football Association chairman Greg Dyke said he would do all he could to protect the traditional Christmas period for club matches.
That stance was echoed by Scudamore, who said: "We've got to make sure we keep the Christmas and New year programme intact."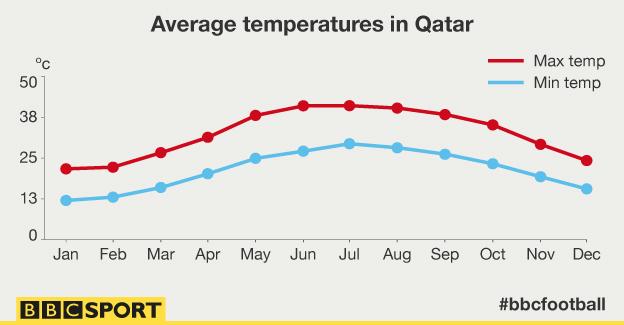 Fifa vice-president Jim Boyce has agreed that moving the World Cup to the winter was "common sense" and supported the view that the final would need to be earlier than 23 December.
Former England defender Phil Neville believes that a winter World Cup will mean English players will be fresher than at other World Cup tournaments.
Neville, who won 59 caps, told BBC Sport: "We normally go into a World Cup at the end of a long, hard, nine-month season when our players are absolutely dead on their feet.
"For an England team, this might be the best thing that's ever happened."