Dundee: Club's accounts show increase in losses

Last updated on .From the section Football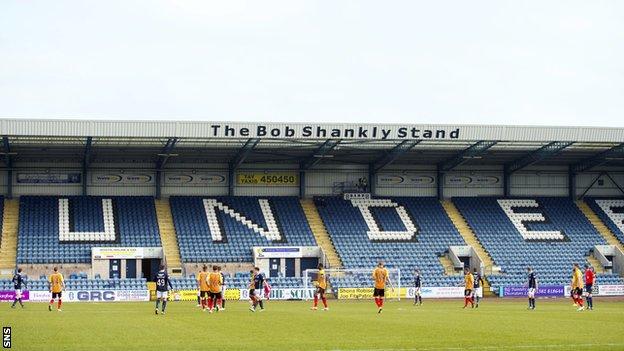 Dundee Football Club's losses rose to more than £3m over the financial year to 31 May.
The Dens Park club's annual accounts until then show that they were just over £3.1m in the red.
The figure of £2.3m for the previous year rose following an £820,000 loss for the year to May 2014.
Dundee's abbreviated balance sheet was lodged with Companies House earlier this week.
The club said in a website statement: "In our 2013/14 Championship winning season, the club reported a loss for the full year to 31 May, 2014 of £820,000, which was a significant reduction from the previous year's profit.
"That profit was earned during season 2012/13 when DFC were unexpectedly promoted to the SPL as runners-up in the previous year's Championship.
"Notwithstanding this loss, after taking account of the capital injected in the business during the year, the net worth of the company improved by £100,000.
"Clearly our cost base did not fall sufficiently in 2013/14, as our revenue following relegation from the SPL dropped by over 18% while our operating expenses actually increased.
"We had a significant playing budget during the year and a larger management expense than we have now.
"Plus, there were also a number of one-off payments to several members of staff who left the club.
"We continue to make steady progress as a club and are working hard within a totally debt-free environment to reduce our net balance sheet liabilities and to build our club again on a firm financial footing for the future."