Troubled Parma have Serie A match called off after strike threat
Last updated on .From the section European Football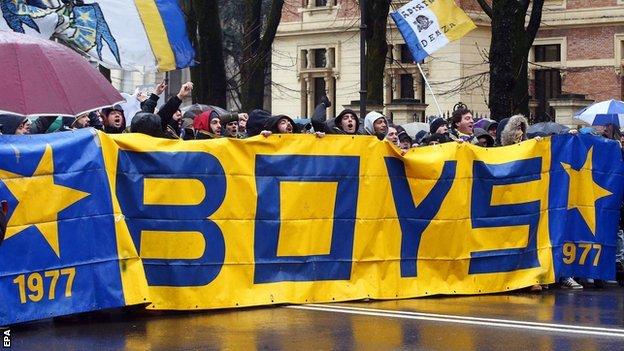 Italian side Parma have had their Serie A match at Genoa on Sunday called off after players threatened to strike over unpaid wages.
The troubled club's players have not been paid all season and the club has a debt of 197.4m euros (£145m).
Last weekend's home game against Udinese was also called off because club officials could not afford to pay for stewards.
The Italian Football Federation (FIGC) warned against future postponements.
"Considering the morale of the players, I have agreed to postpone the game, but I can't do it every Sunday," said FIGC president Carlo Tavecchio in a statement.
The announcement came after the club's captain Alessandro Lucarelli warned earlier on Friday that the troubled club's players would go on strike if the game was not postponed.
"We will not play in Genoa," Lucarelli told his club's official website. "We have requested for the game to be postponed.
"If they don't grant us that, then we will go on strike and we will be given a 3-0 defeat."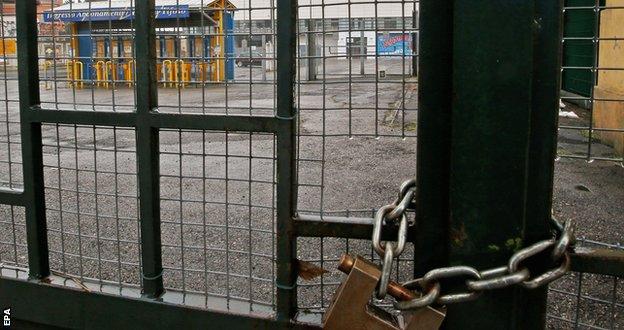 Parma finished sixth in Serie A last season, under the guidance of former Italy midfielder Roberto Donadoni, to secure European qualification for the first time since 2007.
But they were prevented from competing in the Europa League for not meeting Uefa's club licensing criteria because of unpaid bills.
Ownership of the club has twice changed hands in the past two months and those problems have been reflected on the pitch, with Parma sitting bottom of the table, six points behind second-bottom Cesena.
This May marks the 20th anniversary of Parma's maiden Uefa Cup success.