John Hughes says ICT are not in Premiership title race
By Martin Dowden
BBC Scotland
Last updated on .From the section Inverness CT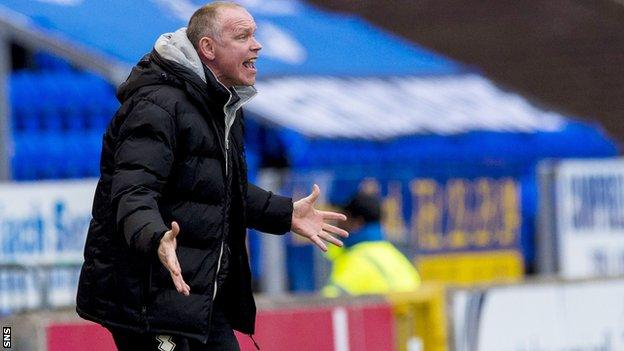 Inverness Caledonian Thistle manager John Hughes says his side will not be able to emulate Aberdeen in mounting a title challenge to Celtic this season.
But Hughes says they are not in the title mix.
"If there is going to be a challenge to Celtic, I think it'll come from two of the bigger clubs, Dundee United and Aberdeen," Hughes said.
"You have to be a realist."
The Highland club will travel to face a Motherwell side boosted by new signing Scott McDonald, who enjoyed a successful spell at Fir Park before joining Celtic in 2007.
With Aberdeen facing Celtic on Sunday, Inverness can close the gap to a single point, and may also tighten their grip on a European place. They currently sit seven points clear of nearest challengers Dundee United.
Yet, despite welcoming the title challenge to Celtic, Hughes does not believe his side are realistically in the frame.
"I think the challenge to Celtic is exciting," He told BBC Scotland.
"That challenge coming from Aberdeen, pushing Celtic all the way, is good for Scottish football and inspires everyone else."
Inverness defeated Motherwell 2-0 at Fir Park in August but a very different squad will provide the opposition, with manager Ian Baraclough recruiting a number of new faces.
"I really feel for them, for their predicament," said Hughes. "It's a wonderful club. But we have to be very professional, go down there and make sure we're taking care of business.

"They've had a horrendous injury list since the start of the season. We've been quite lucky with injuries, which has let us have good consistency with team selection. That's probably played a massive part on them being where they are.
"It's all about where we are. We're unbeaten this year. If we can go to Motherwell and make sure that we keep that going then all credit to the boys."
The former Falkirk and Hibernian manager knows his side's unbeaten run must come to an end some time, but is determined that his players remain focused to capitalise on the opportunities they've created.
"I've been in the game long enough to know that I don't think that we're going to win every game from now to the end of the season," he added.
"But we've done absolutely different class up until now. It's a matter of just keeping our foot firmly on the gas and see where it takes us."
Hughes believes he's close to recruiting at least one new signing after assessing trialists over the last few weeks.
Tarmo Kink and Prince Rajcomar are both strikers who've impressed on trial, as Hughes attempts to boost his attacking options following Billy McKay's departure.
"We wouldn't spend money that we haven't got. It was a great bit of business with Billy McKay, who's sorely missed may I add.
"You have to say we're still scoring goals. The team have shared the goals about. Marley (Watkins) is playing the front line exceptionally well.
"If I'm honest I think the boys need a hand. It needs to be the right one that they get inspired from.
"Tarmo (Kink) has definitely done that; Prince (Rajcomar) has definitely done that. We just need to sit down and make our mind up."