Leyton Orient: Fabio Liverani admits player wages are delayed
Last updated on .From the section Leyton Orient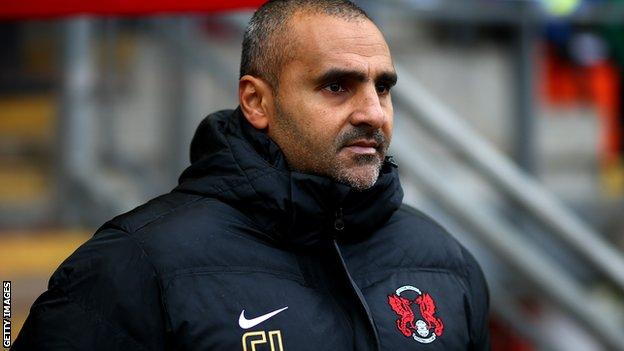 Fabio Liverani has revealed his Leyton Orient players have not been paid this month but expects the issue to be resolved on Wednesday.
Liverani, the club's fourth manager this term, spoke about the situation after Saturday's 2-0 win at Walsall.
"There's been a slight delay due to transfers into foreign bank accounts," the 38-year-old told told BBC London 94.9 through a translator.
"It is predicted by Wednesday that both staff and players will be paid."
The O's captain Nathan Clarke recently refuted a report in the Evening Standard that players were unsettled by the wage structure.
Orient were taken over by Italian businessman Francesco Becchetti last summer and are in the relegation zone in League One.
"I think it has been made a lot of, I wouldn't say fuss, but attention about this, when in Italy we get money every four months in football," added Liverani.
"We understand it is different in England but it's not a big problem.
"There was a technical problem due to bank transfers. Perhaps the club or ourselves could have issued a statement earlier to inform the players and the staff about the delay in payment.
"There is no concern in terms of the chairman's investment in the club, which is huge. This was really a one-off situation and not an example that is going to be repeated again."
The east London side were beaten in the League One play-off final by Rotherham last season, but have struggled to replicate that form.
Striker Chris Dagnall, who scored Orient's second goal in their win at the Banks's Stadium, said the squad had not been affected by the wage issue.
"I don't think it's a major problem, everyone knows we didn't get paid when we should have done yesterday," he said.
"They've turned round to us and said we'll be getting paid on Wednesday, so as long as we get paid then there's no issue."