Vincent Tan: Cardiff City owner saw positives claims Russell Slade
Last updated on .From the section Football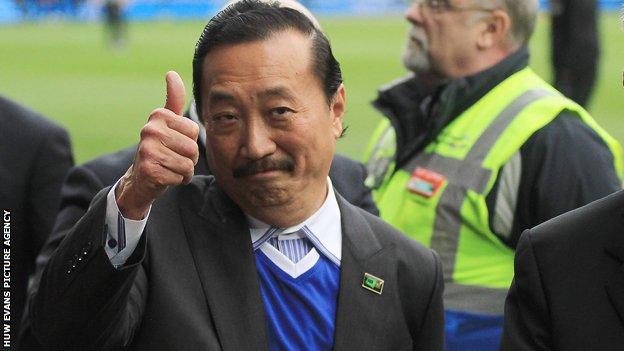 Cardiff City owner Vincent Tan understands the club is going through "a period of transition" according to manager Russell Slade after they lost 1-0 to Wolverhampton Wanderers.
Slade held talks with Tan and said he thought the Malaysian billionaire had seen "positive things."
"He thought we were unlucky," Slade said of Tan's post-match reaction.
It was the first time Tan had attended a game since Cardiff were relegated from the Premier League in 2014.
It was also the first time Tan had been to a Cardiff game since changing back the home shirt colour from red to blue.
Tan wore blue himself, meeting players and greeting fans before kick-off at Cardiff City Stadium.
"It was good that he was here today," Slade said, adding that Tan's pre-match meeting with the players had gone down well with the team.
"I had a good hour with him this morning myself so, I'm just disappointed we didn't get a positive result for him."
Slade was speaking at the end of the week which had revealed the Welsh club are £174m in debt with more than £120m of that owed to Tan.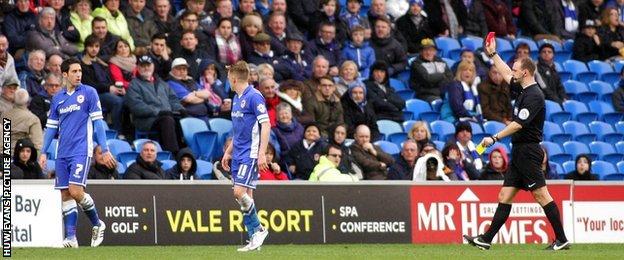 The accounts for the year up to May 2014 also show Cardiff lost £12m during their Premier League campaign.
Slade said he thought the owner understood what the club was trying to achieve.
"He understands we're going through a period of transition and I think he saw positive things," Slade added.
"It's disappointing we didn't get something out of the game because I thought we deserved something."
Bluebirds midfielder Peter Whittingham was sent off in the second-half after two bookable offences, the second yellow card for a lunging challenge on Matt Doherty.
Whittingham will now be suspended after playing every minute of every league game this season.
"The ref had no choice really," Slade said of the dismissal.
"Having said that they [Wolves] could have had a player sent off three or four minutes earlier for a similar thing because he made two challenges and the second one was no worse than the first, so he could have had a red card as well.
"It's a fine line sometimes and Whitts should know better... he'll be disappointed with that," Slade concluded.