Chelsea v Tottenham: Spurs wanted me as boss - Mourinho
Last updated on .From the section Football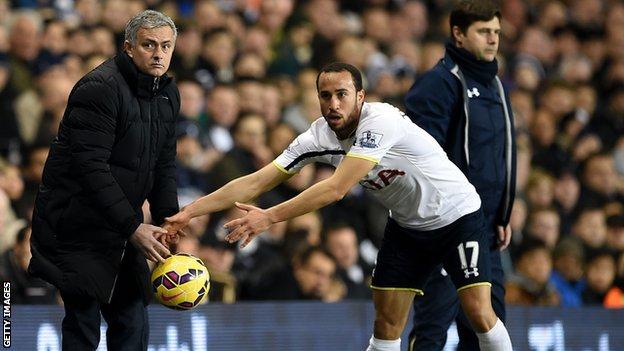 Chelsea boss Jose Mourinho says he turned down an approach to join Tottenham after leaving the Blues for the first time in September 2007.
But Mourinho, whose team play Spurs in Sunday's League Cup final, had an exit clause that prevented him from coaching in England for two years.
"I couldn't go," he said. "I could not train in England for two years."
Asked if he would have considered Spurs, Mourinho added: "No, because I love Chelsea supporters too much."
Tottenham attempted to pay Chelsea compensation but Mourinho said they had failed to reach an agreement.
Chelsea and Tottenham managers since 2004

Chelsea

Tottenham

Jose Mourinho: Jun 2004 to Sep 2007

Jacques Santini: Jun 2004 to Nov 2004

Avram Grant: Sep 2007 to May 2008

Martin Jol: Nov 2004 to Oct 2007

Luiz Felipe Scolari: Jul 2008 to Feb 2009

Juande Ramos: Oct 2007 to Oct 2008

Guus Hiddink: Feb 2009 to May 2009

Harry Redknapp: Oct 2008 to June 2012

Carlo Ancelotti: Jun 2009 to May 2011

André Villas-Boas: Jul 2012 to Dec 2013

Andre Villas-Boas: Jun 2011 to Mar 2012

Tim Sherwood: Dec 2013 to May 2014

Roberto Di Matteo: Mar 2012 to Nov 2012

Mauricio Pochettino: May 2014-

Rafael Benitez: Nov 2012 to May 2013

Jose Mourinho: June 2013 -
Chairman Daniel Levy had reportedly wanted to replace Martin Jol with Mourinho at White Hart Lane, before Jol was eventually sacked in October 2007.
Spurs went on to appoint Spain's Juande Ramos, who won the League Cup in his only season in charge before he was sacked in October 2008.
When Mourinho then indicated he was thinking of leaving Real Madrid in 2012, Levy was again interested in bringing him to north London - but he rejoined Chelsea in 2013 instead.
Spurs brought in Mourinho's former assistant at Porto, Chelsea and Inter, Andre Villas Boas, who arrived at White Hart Lane in July 2012, just four months after he was sacked as Chelsea manager.
Mourinho won the League Cup twice during his first spell in London and is hoping for his first silverware since returning to the club in Sunday's final.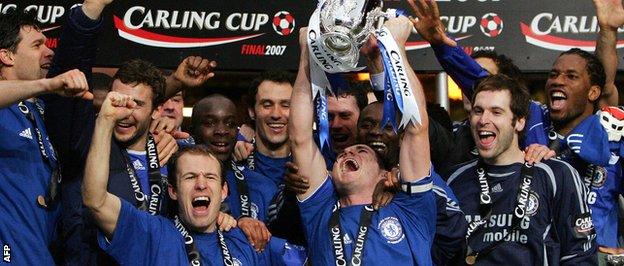 But his team will be without key player Nemanja Matic for the match thanks to the midfielder's suspension, and Spurs, who won the trophy in 2008, beat Chelsea 5-3 on 1 January in their most recent Premier League encounter.
Meanwhile, Mourinho, who is in the second year of a four-year deal, said he wants to stay in English football for the remainder of his career.
"I don't want to go away," he said "I will stay here in this chair until owner Mr Abramovich tells me 'Jose, it's enough'.
"If one day he tells me 'Jose it's enough' I will go to my house in London and I wait for another English club.
"When I left the first time I had lots of countries to go to and lots of clubs to go to. In this moment when I leave I have another 19 clubs in the Premier League and the clubs in the Championship."