St Mirren 1-0 Hamilton: Martin Canning concerned with nerves
Last updated on .From the section Football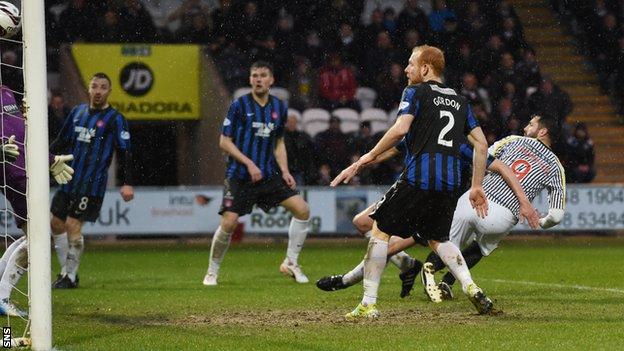 Hamilton player-manager Martin Canning said his side need to learn to relax after their poor run continued with a 1-0 defeat to St Mirren.
Steven Thompson's goal settled the match in dismal conditions in Paisley, stretching the Accies' winless run to nine games.
Canning admitted the run of results, including four games now without a goal, is getting to the players.
"I didn't think it was but when you watch the performance today it seems to be," Canning told BBC Scotland.
"There's a nervousness about us that I wouldn't expect to see.
"From my point of view the sooner we get the win the better. From the players' point of view, what they've got to do is relax and go and play. They're good players. Relax, go and play, and things will come.
"I'm disappointed with the way we played. There's certain players not doing enough which is a problem for me so it's something we need to look at and try to address.
"The way we set up today, our quality on the ball had to be better."

St Mirren interim manager Gary Teale saw his team win at home for the first time this season, with Thompson scoring on his return from injury.
"There's been a lot of emphasis put on that so it's good to get that monkey off our back," Teale said.
"We can only concentrate on what we're doing. Thankfully we've managed to get the home win today.
"It's entirely up to ourselves in terms of attitude, in how we go and approach every game individually, and I'm delighted we've managed to get the win today.
"It wasn't pretty for large parts of the game and sometimes you've just got to play to the conditions.
"We had numerous chances. I thought Jason Naismith and James Dayton down the right hand side linked up very, very well. They had a lot of good balls into the box and thankfully we've managed to take one in the end."
Bulgarian defender Victor Genev was amongst the debutants for St Mirren, before limping off with a suspected hamstring injury.
"It's something I've been looking to get for a while, somebody to come in there for a wee bit of competition for places, and probably more naturally left sided," said Teale.
"So I've had to take my time but we've managed to get Victor in now and hopefully his injury's not bad."