Arsene Wenger: Win significant for rest of Arsenal's season
Last updated on .From the section Football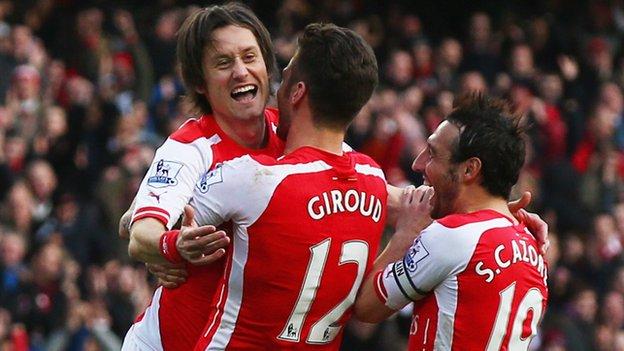 Arsenal have set themselves up for the rest of the season with a "very significant" Premier League victory over Everton, boss Arsene Wenger says.
Olivier Giroud and Tomas Rosicky scored in a 2-0 win as Wenger's side regained third place from Manchester United.
Wenger had accused his players of losing their nerve after they lost 3-1 at home to Monaco in the Champions League on Wednesday.
"Today the result was very significant for the rest of the season," he said.
"We just needed the win to get out of our mind the disappointment of Wednesday."
Midfielder Francis Coquelin suffered a broken nose in a second-half collision with team-mate Giroud, but could be available for Wednesday's Premier League trip to Queens Park Rangers.
"It looks like a broken nose," Wenger said. "I don't know how bad he is. I hope he will be available for Wednesday."
'It's down to consistency'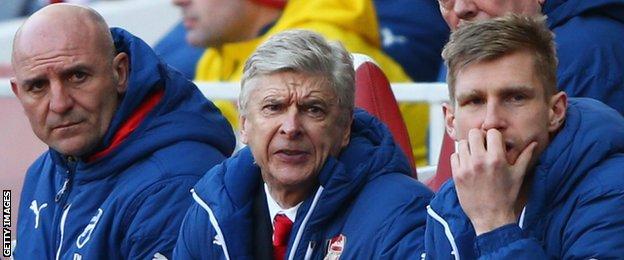 Victory over Everton has left Arsenal four points behind second-placed Manchester City at the start of a significant month in their season.
Wenger's side face league matches against QPR, West Ham and Newcastle, in addition to visiting Manchester United for an FA Cup quarter-final on 9 March, and travelling to Monaco for the second leg of their Champions League round of 16 tie eight days later.
"It's tight," the manager said. "We are four points behind Manchester City. But there are teams who are one, two, three points behind us.
"It's down to consistency. You could see today that we needed a very focused performance to beat Everton, who are a very good side."
Giroud 'a hard worker'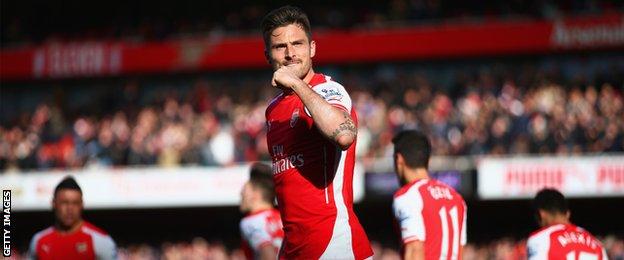 France striker Giroud retained his starting place despite missing several chances against Monaco, and was defended in Wenger's programme notes for the Everton match.
The manager said: "I defended him because nobody misses chances on purpose. You can miss chances when you are a striker. Everybody does.
"That's why I believe he deserved to play. He works very hard for the team. He puts a shift in. When a striker does that, whether he scores or not, sometimes you have to take that into account as well."
'We can do better with the ball'
Wenger acknowledged that Arsenal's build-up play was too slow at times.
"We were a bit cautious," he said. "We lacked a spontaneous attitude today. But we just wanted to do our job and win.
"I'm very, very happy with the mental aspect of our response."
We need momentum - Martinez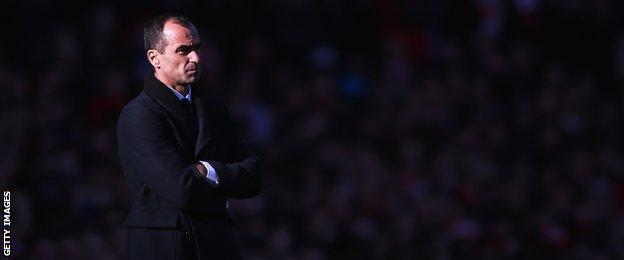 Sunday's opponents Everton are in 14th place, six points above the relegation zone, having won one of their last 11 Premier League matches.
Everton manager Roberto Martinez felt his side deserved at least a point from the match.
He said: "Today has been a reflection of our season, really. I thought the performance was much better than the result. That's why we are where we are in the table.
"It takes a bit of momentum, in terms of results, to turn things around. You need to get two or three consecutive wins and everything changes.
"That's the momentum you create in football, and unfortunately, we've never had any this season."