Danny Murphy: How Manchester City set-up let Liverpool duo thrive
Last updated on .From the section Football

Former Liverpool midfielder Danny Murphy expands on his TV analysis of how Manchester City manager Manuel Pellegrini's team selection suited Liverpool in the Reds' 2-1 win at Anfield on Sunday.
Liverpool's 3-4-3 formation definitely suits Adam Lallana and Philippe Coutinho, but the way Manchester City were set up on Sunday allowed the pair to thrive.
Lallana and Coutinho were playing either side of Raheem Sterling in the Reds' attack, and both were looking to come in from the flanks when their side was in possession.
City were playing in a 4-4-2 shape, with Fernandinho as their only defensive-minded midfielder.
The Brazilian was looking around and spotting Lallana and Coutinho coming in behind him, but he could only ever pick up one of them.
That meant the other man could get on the ball in the pockets of space between City's defence and midfield, in what you would normally call the number 10 position, to try to do some damage.
Lallana or Coutinho did not only find space well, they used it too, and frequently got into dangerous positions.
Both men played a key role in Liverpool's impressive attacking play even before Coutinho curled home his brilliant winner.
Lallana and Coutinho work hard in City's half
A big part of Liverpool making their current system work is their pressing game when the opposition have possession.
Lallana and Coutinho did that a lot at Anfield on Sunday, with a great example being when Coutinho stole the ball off Vincent Kompany and started the move that led to Jordan Henderson scoring their first goal.
Adam Lallana touches vs Man City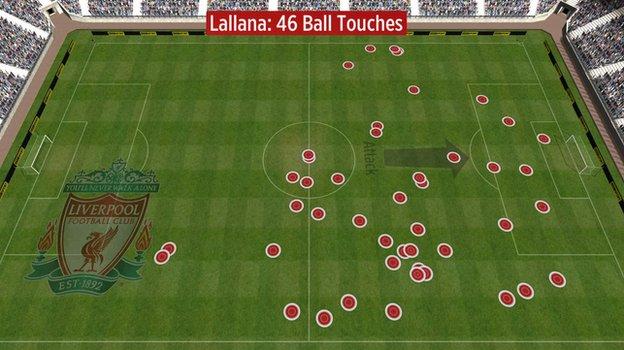 They both covered a lot of ground but neither of them had to track back deep into their own half when City attacked because Liverpool's wing-backs Alberto Moreno and Lazar Markovic were there to deal with any threat out wide.
That meant Lallana and Coutinho could stay upfield and do most of their work - attacking and defensive - in City's half.
Philippe Coutinho touches vs Man City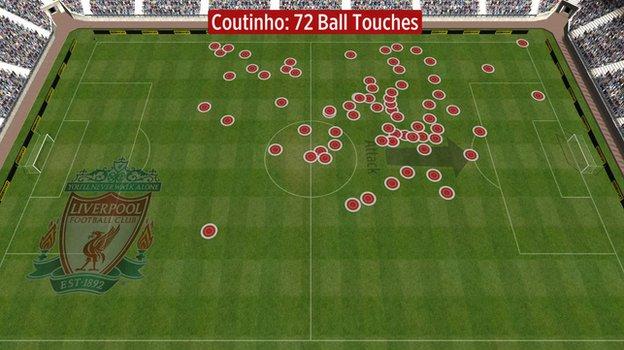 Their movement was superb and, along with Sterling, their runs gave Liverpool's deeper midfielders plenty of options when they were in possession.
Man City asking for trouble
Manchester City manager Manuel Pellegrini has come in for some stick this week for playing with two strikers in Tuesday's 2-1 Champions League defeat by Barcelona and surrendering midfield.
He again played with two front men at Anfield but, rather than his formation, it was his midfield selection that allowed Liverpool's front players to have so much joy.
You can play a midfield four and keep things tight but you need to have four compact and disciplined midfielders.
City, with Yaya Toure alongside Fernandinho in the middle and David Silva and Samir Nasri on the left and right, did not have that at Anfield.
Fernandinho was the only one out of that quartet who was looking to defend, and obviously that meant he was always stretched.
Fernandinho's touches vs Liverpool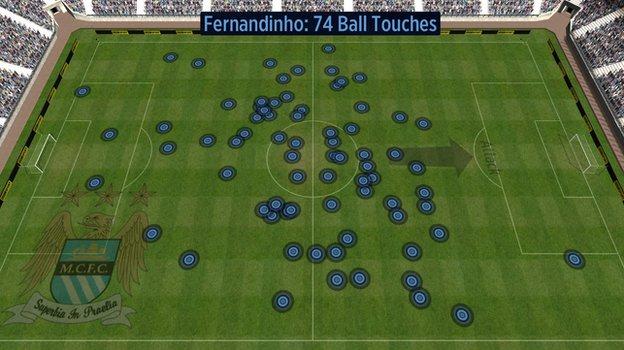 When he went over to close down Lallana, Coutinho got on the ball, and vice versa.
The way to stop that, and prevent City's full-backs from having to be dragged inside to help deal with those two, would have been for City's midfield to drop deeper, ideally with different personnel.
James Milner would have been more disciplined alongside Fernandinho and stopped Liverpool from finding so much space in front of City's defence.
Where next for City's title defence?
Pellegrini fitted a lot of his big names into his line-up but I don't think it suited the opposition.
It is the wrong mentality when you go in with that many attack-minded players in the big games like this one and try to play a midfield four.
For example, I don't think Silva in particular enjoys playing wide. Defensively you are losing a bit there and he tends to do his better attacking work in a number 10 position anyway.
Of course, it is easier to say that with hindsight after a defeat - and City won the Premier League playing this way last season.
So Pellegrini can rightly mention that when he is criticised for sticking with this system. It is obviously something he believes in and I admire him for that.
But sometimes when you are not playing well and results are not going for you, you have to adapt and I do not think City have done that as much as they could and should have this season.
And this defeat has left them with a mountain to climb in terms of their title defence, especially when you consider that they are not playing well anyway.