Jordan Seabright: Torquay keeper quits to become car salesman
By Brent Pilnick
BBC Sport
Last updated on .From the section Torquay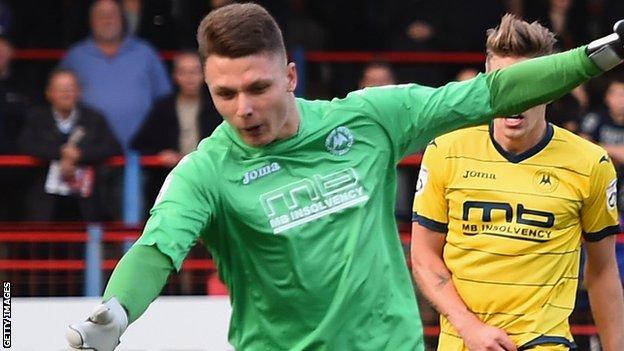 Torquay United goalkeeper Jordan Seabright has quit football to become a car salesman in his home town of Poole.
The 20-year-old has played six Conference games this season since his latest on 17 January at Altrincham.
"If I'm honest, I fell out of love with the game, I didn't really enjoy it any more," he told BBC Sport.
"I didn't see myself going anywhere and I want to have a career and be successful."
He continued: "It wasn't a lack of ambition in football, but it was a good opportunity for me come home and work in a good environment."
Seabright began his career at Poole Town before being picked up by AFC Bournemouth in 2011.
After a season with the Cherries he was released and joined League Two side Dagenham and Redbridge, for whom he made 11 appearances in two seasons, before moving to Torquay.
Biting the bullet - other players who have quit football at a young age
Eric Cantona:
Quit Manchester United at the age of 30 and a year later appeared in the 1998 film Elizabeth
David Bentley:
Former England midfielder left football at the age of 29 after
"falling out of love with the game"
Eddie Oshodi:
Forest Green Rovers defender
quit the game at 23
after saying "football in the lower leagues isn't going to help me work in the future"
Jimmy Glass:
The goalkeeper, who saved Carlisle United from relegation to the Conference with his last-minute goal on the final day of the 1998-99 season, quit the sport at the age of 27 to become an IT salesman
Ben Burgess:
Former Blackburn and Hull striker left football aged 30 to
become a teacher
For Seabright, the cold hard reality of a career as a footballer in the lower reaches of the professional game failed to match the dreams he had as a youngster.
"I have to think about myself, I want to be successful and I didn't see myself doing that in football," he said.
"I didn't see myself being a Championship 'keeper or Premier League goalkeeper or League One to be honest.
"It wasn't a lack of confidence, I was being realistic. I didn't really enjoy it so I thought now was the right time, I had to be honest with Torquay."
Seabright made his decision to quit the sport last month, but delayed leaving Torquay until after their FA Trophy semi-final with Wrexham, which they lost 5-1 on aggregate after Saturday's second leg.
"It's a really brave decision," Torquay manager Chris Hargreaves told BBC Sport.
"It's a decision that I don't think is necessarily the wrong decision, but the bigger factor is it disappoints me that he's lost that dream.
"It's unusual, but with someone like Jordan, who's a bright lad and very switched on, he knows what he wants to do, he knows he wants security. He's due to get married and I can see why he's done it."
Jordan Seabright
Born:
1 May 1994
Senior debut:
Substitute for Dagenham and Redbridge in 4-0 FA Cup loss at AFC Bournemouth - November 2012
Career appearances:
19
Clubs:
Poole Town, AFC Bournemouth, Dagenham & Redbridge, Torquay United
Last game:
17 January 2015 in a 2-1 loss at Altrincham
Hargreaves added: "It was with a heavy heart that I accepted his resignation, but we wish him all the best.
"He's a lovely lad, he's good company, a good person to work with, but he lost the appetite for football, and in any walk of life, if you've lost the appetite for your profession it's a big worry."
So what was the moment when Seabright finally realised that it was time to put away his gloves and opt for a career which involves working alternate Saturdays trying to sell Audis to the people of Poole?
"It was when I got dropped after the Altrincham game," he said.
"I thought I was going to make something of myself and then that happened. I didn't like the highs and lows and thought that now was the time to get out."
But Seabright has not totally closed the door on a footballing career:
"I'm still going to train locally just in case in six months time I do choose to go back into it," he added.
"I think I looked into it too deeply in terms of what I was going to do further down the line.
"You should play for the love of the game, not because you're going to earn so much money. Do it because you want to do it."
For now, Seabright's departure means Martin Rice is the only goalkeeper on Torquay's books with any first-team experience, leaving Hargreaves to try and find cover with two months left of the season.
"I need to have a chat with the club and see where we're at financially to see what type of keeper we can bring in," he said.
"We have a youth keeper, Dan Lavercombe, who we rate, he's a fantastic young goalkeeper who we think has a very bright future.
"But is he ready to go and play week in, week out? I'm not sure, so we will have to have a chat to see what type of player we can bring in."