Supporters Direct demands greater ownership transparency
Last updated on .From the section Football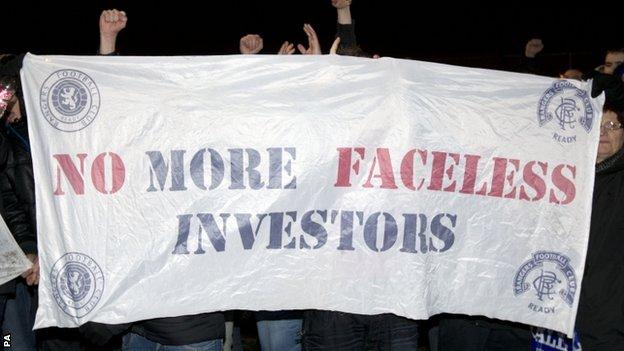 A leading fans' group wants greater transparency to ensure supporters know exactly who owns their club.
The demand from Supporters Direct is part of a report with the aim of "reforming English football".
Between 2005 and 2011 Leeds United's owners were unknown, as a Cayman Islands-based trust was in charge of the club.
Hartlepool,Charlton,Blackpool and Leyton Orient have been highlighted by Supporters Direct as clubs of concern.
| Supporters Direct's 10-point plan | |
| --- | --- |
| Address the issue of reform of the FA | Ensure name(s) of the individuals who own and control clubs are made public |
| Implement an effective licensing system for clubs to enshrine the rights of fans | Professional clubs must have plan for engagement and consultation with fans |
| Support the Expert Working Group on Supporter Ownership and Engagement | Give fans a chance to bid for control of their club if there is a change of ownership |
| Implement Supporters Direct proposal for Community Owned Sports Clubs | Remove barriers to fan ownership |
| Implement a tighter and more effective Owners and Directors Test | Develop Code of Governance as robust as that operating in wider business |
"For the last 15 years, supporters' trusts and supporter-owned football clubs have been striving to do things right, but too many others want to hide behind offshore trusts, mysterious funding and complex rules," said Robin Osterley, Supporters Direct chief executive.
"We don't think it is too much to ask that supporters know exactly which person actually owns their club.
"We think it's equally reasonable to expect that the rights of supporters are protected properly by the rules.
"It is about time it was done, and done properly."
Supporters Direct says its report focuses on "unresolved issues identified in the second report of the Culture, Media and Sport Select Committee Review of Football Governance 2013, which recommended sweeping changes".
Osterley added: "Much of this manifesto serves as a timely reminder that there has been a block on vital areas of change for far too long.
"We hear increasing rhetoric from politicians that suggests that they're prepared to move and force the change that is needed. We now need that rhetoric to be turned into action."