Stuart McCall: Scotland coach plays down Rangers link
Last updated on .From the section Football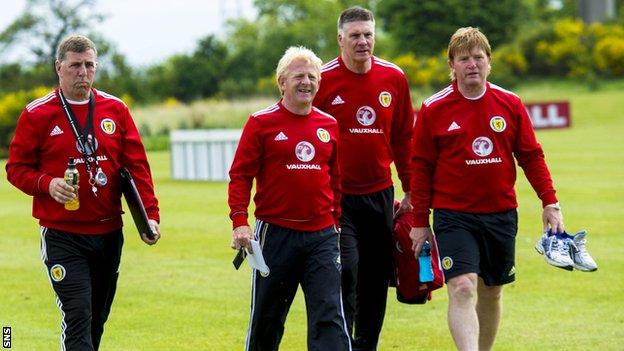 Scotland coach Stuart McCall has played down talk of a return to Rangers, for whom he played for seven years in the 1990s.
He said: "It's got to be something that would really make me want to go and do it. Obviously, Rangers is a huge club.
"But a team have got to want you to be involved and then you look into it."
The current Rangers manager, Kenny McDowall, is in the early days of his 12-month notice period, having said he wished to resign.
McCall, who starred in the Rangers midfield from 1991 to 1998, says he is enjoying working with Scotland manager Gordon Strachan and assistant Mark McGhee.
Speaking ahead of the Hampden friendly against Northern Ireland on 25 March, he added: "Since I've been out of work, I've had a couple of opportunities both north and south of the border to go back into the game.
"I really enjoy what I do at Scotland and I was fortunate at Motherwell I could do both.
"I would imagine 90% of the opportunities I'll maybe have will mean that I can't do that.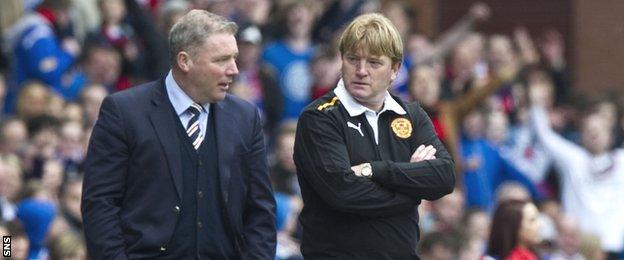 "I'll have a lot to figure out over the next few months, up to the summer, unless something jumps out at me. It's got to get me going.
"Working with Gordon and Mark and the national squad means a lot to me and I really enjoy it."
McCall, who says he has had no contact with Dave King, the Rangers shareholder who looks likely to succeed in ousting the Ibrox board on Friday, believes the change in regime is good news for the fans.
"There has been a lot of mis-management at the club," he said.
"All the supporters want is for the people who take over the club to do it for the club's sake and not to come in and make a few bob.
"The supporters have spoken and it looks like they are going to get their own way, but it's only a small step.
"It's encouraging for the supporters to see that what they're craving looks like it's coming to fruition."