Ashley Williams: Defender 'settled' at Swansea City - Garry Monk
Last updated on .From the section Football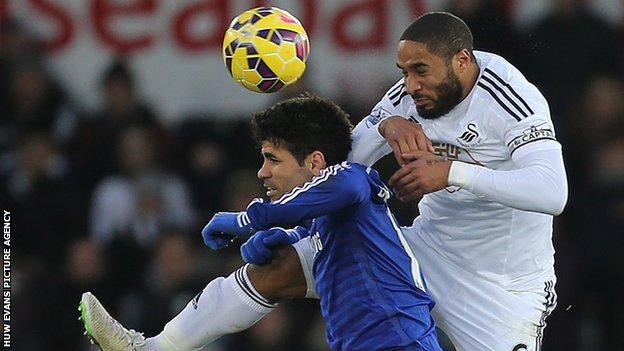 Swansea City manager Garry Monk is confident that captain Ashley Williams will remain at the club.
Ex-Wales midfielder Robbie Savage said he would be "surprised" if the defender was at Liberty Stadium next season.
"He's very settled here, loves the club, loves what we do going forward," Monk said.
"He stands for a lot of what we've been doing here and how I want to go forward with the club and the team.
"So I don't envisage that changing at all."
Monk was Williams's centre-back partner before taking over as manager following the departure of Michael Laudrup in February 2014.
The Swansea boss emphasised the bond between the two men, while having a little fun at Williams's expense on the chances of a transfer.
"He's too old now anyway!" Monk joked. "He's fantastic, obviously I have a close relationship with Ashley, we've played together.
"But I use him as the captain to be a good voice, to put the right message across and work closely with him, with his captaincy.
"I think you can see from his performances how committed he is and he will always be committed to this club.
"He doesn't want to move anywhere, I know that, he's very committed to the club, he signed his new, long-term contract.
"Of course people will talk but he's had that for a number of years now, so it's nothing new to him to hear these noises.
"He concentrates on his job, that's why he is the captain. He's so focused and pushes the group very well, so I don't see that changing at all."
Although leading scorer Wilfried Bony went to Manchester City in the January transfer window for a sum that could be worth up to £28m, Monk says Swansea do not have to sell.
"The good thing is it's dictated by us, we're not a selling club," Monk added.
"We don't have to sell, we're under no pressure to sell, we don't need the money, it's not a situation like that.
"It's a club that we want to grow, we want the squad to grow and improve and add quality to it, not take away quality from it.
"You never know who in your squad will be targeted and whether you fight that off or not, or players will move on but that's the same at every football club."