Angus MacDonald: Torquay centre-back disciplined for fan incident
Last updated on .From the section Football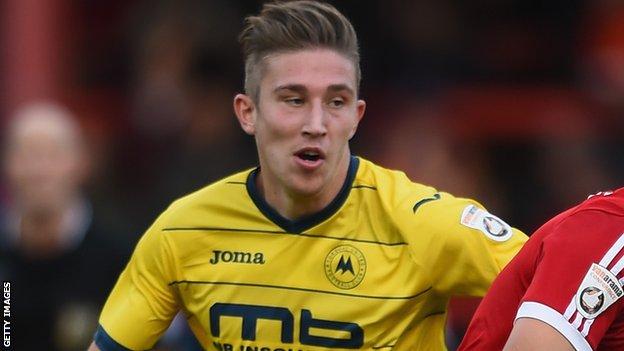 Torquay defender Angus MacDonald has been fined by the club for verbally abusing supporters during Saturday's FA Trophy loss to Wrexham.
The 22-year-old argued with a fan in the second half of the which saw the Gulls exit the competition 5-1 on aggregate.
"I apologise to the fans I shouted at, as I should not have got myself involved," said MacDonald.
"I was desperate to do well and let my frustration get away with me."
Gulls manager, Chris Hargreaves, who said last week that commented he wants the club to move on from the incident.
"Saturday was a big day for all of us, and we certainly understand any frustration at the result," said Hargreaves in a statement.
"I have spoken to Angus and he accepts responsibility for his actions.
"He is a young lad and he must use this as a learning experience. We now move forward and focus on the next two home games with Telford and Chester."