Ched Evans 'entitled to work' - Oldham chairman Simon Corney
Last updated on .From the section Football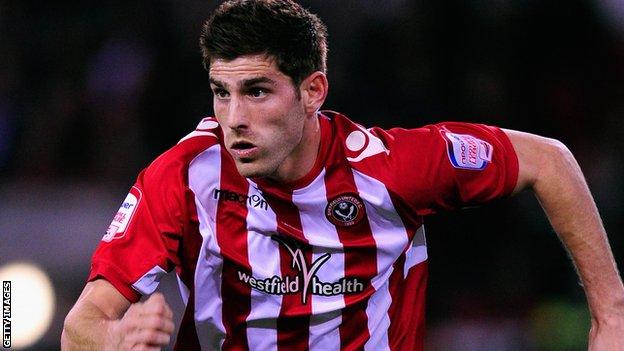 Oldham Athletic chairman Simon Corney still believes that convicted rapist Ched Evans is "entitled to work again".
Striker Evans, 26, was close to completing a move to the League One side in January before they pulled out.
Pressure from sponsors and threats to club staff and their families prompted Oldham to abandon negotiations.
"I certainly understand everybody's views on this and of course it is incredibly sensitive," Corney told BBC Radio Manchester.
"It was a very, very difficult time for the club any myself personally and there are lots of details that I cannot talk about and I just cannot say in public.
"What I would say is that if you put me in a room and said 'you can't leave until you've given your opinion' I'd say this, Ched Evans committed something, a crime of some sort, there's no question about that.
"He served his time and there's no doubt about that, and I am a believer that once you serve your time, which our judicial system handed out to him, you are entitled to work again.
"At the same time I understand the furore we caused and the angst that we caused to some people.
"But I went with my own belief, and the board as well felt the same way, and we decided that that was the right course of action."
Ched Evans's career in numbers

Club

Games

Goals

Manchester City

16

1

Norwich City (loan)

28

10

Sheffield United

113

48

Wales

13

1
Former Sheffield United and Manchester City forward Evans, who apologised "for the effects" of his actions during the time the Latics were trying to sign him, blamed "mob rule" for the collapse of the proposed deal.
Oldham director Anthony Gee revealed that when the club were first linked with the Wales international, then manager Lee Johnson, who moved to Barnsley last week, was not interested in them signing the player.
"We always back the manager in this respect. It was when the manager came to us a second time and said 'maybe I'll go and have a chat with him' that we rekindled our interest," said Gee.
"If I'm asked whether I regret it? No," he continued. "Do I understand how difficult it was for the fans and the community? Yes.
"It was hard for us as directors as well. There are so many things that are legally happening behind the scenes it is impossible for us to go into huge detail in public.
"We always had the best interest of the club at heart even if it is hard to believe."
Meanwhile, Corney, who helped save the club in 2004 with Simon Blitz and Danny Gazal, confirmed he was still keen on selling his stake.
You can listen to the full hour of Simon Corney and new director and Anthony Gee on the iPlayer.