Nigel Pearson: Leicester City boss has regret over fan incident
Last updated on .From the section Leicester
Leicester City manager Nigel Pearson is adamant he was right not to apologise for insulting a fan in December, but wishes he had handled it differently.
Pearson refused to say sorry after the Football Association handed him a touchline ban and £10,000 fine following an incident in City's 3-1 Premier League loss to Liverpool.
He told BBC East Midlands Today: "I wouldn't apologise to the individual.
"But offending people around me is something I would change."
Pearson, whose side are bottom of the Premier League, served a one-match suspension after the incident and was warned about his future conduct by an Independent Regulatory Commission panel.
He added: "There are always two sides to a story. People like to give it out but they don't like to be on the receiving end."
The 51-year-old has regularly been in the spotlight this season, with persistent speculation about his future coming to a head in February when the club issued a statement denying Pearson had been sacked.
He admitted dealing with the increased pressure that comes with playing in the top flight has been a challenge, describing some of the coverage as "intrusive".
"The scrutiny is there," added Pearson. "I am what I am and whether people like that or not is irrelevant.
"I have to go home and be able to live my life. There is a lot more scrutiny for sure and a lot of tittle-tattle and there are a lot of people who have opinions and they are entitled to them, but so am I.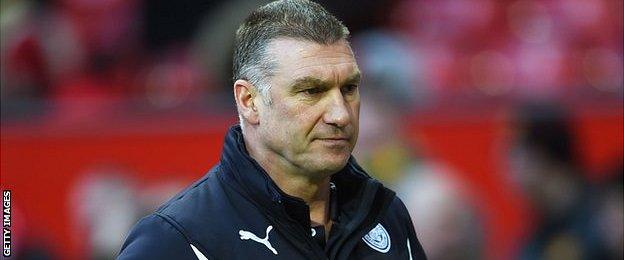 "I have been criticised for being guarded and then been criticised for airing my opinions. So where do I sit?
"The Premier League is a huge product. It is a global brand and there are a lot of sideshows that go alongside it and I am trying to keep my focus on the main event.
"I have never seen it being about me. It is about my role here in helping the football club. It is about the team and delivering for our fans."
Pearson's side are seven points from safety, with 18 points from 26 matches prior to Wednesday's game against defending champions Manchester City.
But despite a tough few months, Pearson, who led Leicester to promotion as Championship champions last season, remained confident they can avoid relegation.
"What is very important is any situation where you avoid relegation is the characters of the people that you work with," said Pearson.
"During my 30-whatever years, in the professional game, I think the common link between any of the groups I have worked with who have been successful is the characteristics of the people and the human qualities that allow you to find that extra percentage. That is something I know we have got here.
"Football fans are there and managers and players come and do. I like to use the word supporter as they care about the club.
"I would like to think they would stay with the players. I would like to think the players are giving everything they have got and we still believe we can change our fortunes this season. I want our fans to try to enjoy it but it is not easy when you are not winning games."