PFA Scotland backs Steve Simonsen over SFA ban challenge
Last updated on .From the section Football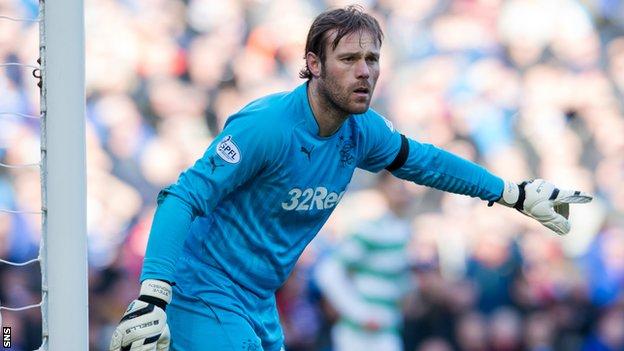 The footballers' union has criticised the move by the Scottish Football Association's compliance officer for Steve Simonsen.
PFA Scotland says it is "surprised and disappointed" by the officer's appeal.
It has expressed concern that it could damage the career of Simonsen, 35.
SFA disciplinary rule 33 prohibits players, coaches, club officials and referees in Scotland from betting on football anywhere in the world.
None of the games Simonsen bet on involved his own club.
His two-game ban included a one-match suspended ban until the end of the season.
McGlennan's move, making use of rules introduced at the start of the season, is the first time a compliance officer has appealed against an independent panel's decision.
A PFA Scotland statement said Simonsen's reputation was "in danger of being further damaged, along with his future employment prospects".
It said it was regrettable that the goalkeeper's request for the SFA to publish the "written reasons of the panel" had so far been declined.
The statement added: "It is important to clarify Mr Simonsen is of good character and has an excellent reputation within the game of football gained from his professionalism throughout his long career.
"The Judicial Panel correctly considered all of the mitigation led on his behalf by PFA Scotland lawyer Liam O'Donnell. Regrettably, we are precluded by SFA rules from outlining the significant mitigation and from explaining the Judicial Panel's findings.
"As a consequence of the initial two game suspension (one match served-one match suspended), Mr Simonsen has lost his place in the Rangers first team, which may well have a material impact on his ability to gain a further contract with Rangers or another club. In our opinion, he has suffered enough already.
"We are of the opinion that given the evidence and witness statements put before it, the original Judicial Panel came to a fair decision and PFA Scotland will rigorously defend Mr Simonsen at the Appeal Hearing."