Truro City players may deliberately get booked, says captain
Last updated on .From the section Football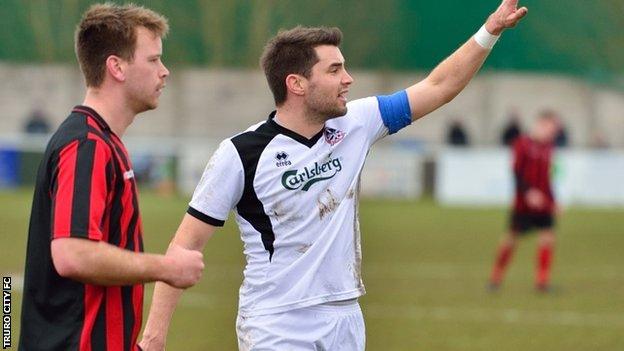 Truro City captain Jake Ash says some of his team-mates may have to get themselves booked in order to get suspensions out of the way in time for the Southern Premier League play-offs.
City are fourth in the division after beating Biggleswade Town 2-1.
But City have a number of players close to suspension with games running out.
"We don't like to hear this, but maybe we can box a bit clever and get players their bookings to get them suspended at the right time," Ash said.
"That's probably what the management might look to do. Hopefully it won't come to that, but it's a concern and something we're hopefully trying to cut out."
Second-half goals from Matt Wright and Craig Duff saw Truro come from a goal down to beat Biggleswade and stay in the play-off places.
But Arran Pugh now has 14 bookings, Rob Farkins is up to nine, while Barry Hayles in on eight and Ryan Brett on four, all close to getting suspensions.
Players get a one-match ban for five bookings, two games for 10 and three games once they reach 15 yellow cards.
"It's something we have talked about, but when you're out there and games are tight and you want to win games, there's 50-50 tackles and there's little decisions and sometimes you've got to go and make that tackle," Ash told BBC Radio Cornwall.
"You've got to think in the moment and if someone lets someone drift past them because they didn't want to stop them, and they scored a goal, we'd rather take the bookings."