Dave Whelan: Wigan Athletic's saviour, but legacy tarnished?
Last updated on .From the section Wigan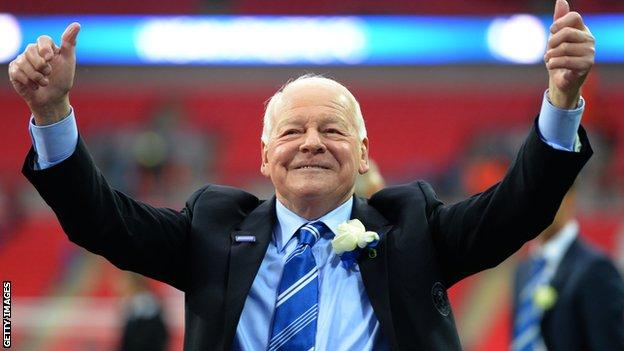 On Tuesday, Dave Whelan resigned after 20 years as chairman of Wigan Athletic.
The 78-year-old, who will remain as Wigan owner, has handed over the day-to-day running of the Championship club to his 23-year-old grandson, David Sharpe.
Given Wigan's amazing rise from the fourth tier to the Premier League and FA Cup victory under his stewardship, Whelan's legacy should have been assured.
But, after being suspended and fined by the Football Association in December for using racist language, has that now been tarnished?
And can their new chairman, the youngest in the Football League, help to arrest Wigan's slide towards League One?
BBC Radio 5 live and BBC Radio Manchester asked former players, administrators, reporters and supporters for their reflections on Whelan's reign and the future for Wigan.
Wigan's rise to the Premier League

Wigan were at the foot of the fourth tier when Whelan purchased the club in February 1995. They reached the Premier League 10 years after his arrival, while he also funded the construction of a new 25,000 all-seater stadium costing £30m, which opened in 1999.
Jason Taylor, Wigan season-ticket holder for almost 40 years: "We were shaking buckets to pay the wages at one point, and he's took us from that all the way up to the Premier League, a new stadium, a League Cup final and winning the FA Cup. It's been a good ride."
Matt Jackson, former Wigan defender and current football operations manager: "It's not just Wigan Athletic that have benefited - the town of Wigan, the rugby league club play in the stadium, there's massive employment in the town from DW Sports, and the charitable contribution is unbelievable. There are many different strands, not just Wigan Athletic, that have benefited."
FA Cup glory

In May 2013, Wigan beat Manchester City 1-0 at Wembley to win the FA Cup. It was the first major trophy in the club's history. Wigan were relegated from the Premier League three days later.
Kevin Kilbane, ex-Wigan midfielder: "That was a great day. He backed managers year upon year and I think he got his reward by winning that FA Cup final. I think a lot of the supporters had a lot of feeling towards him because of what he meant and his history with the competition."
Paul Rowley, Wigan supporter and Latics reporter for BBC Radio Manchester: "For a man who broke his leg playing for Blackburn in the 1960 FA Cup final, to go back to Wembley and lift the greatest sporting prize of all, Hans Christian Andersen couldn't have written a better fairytale."
Mackay, controversial comments and FA charge
Wigan named Malky Mackay as their new manager in November 2014. Mackay remains under investigation by the FA over alleged "sexist, racist and homophobic" text messages he sent while in charge of Cardiff City. His appointment prompted intense media scrutiny.
Whelan was alleged to have used racist language about Jewish and Chinese people in newspaper interviews. He subsequently apologised but denied the remarks he made were racist.
After admitting an FA charge, Whelan was banned from all football-related activity for six weeks and fined £50,000. The FA Disciplinary Commission said it was "satisfied" Whelan "is not a racist" and did not intend to cause offence by his comments.
Rowley: "The events after Malky Mackay took over, which was always going to be a controversial appointment, have soured the fairytale. It had suddenly become a horror story. To be fair to Malky Mackay, he was apologetic and contrite. Dave has always been - let's be blunt - great copy for journalists, me included. He was always approachable and always available for a good quote. On this occasion, he didn't help himself and it was a story that kept on giving by day. It became such a diversion at a time when the team was struggling, the new manager didn't get the usual bounce you tend to get when someone new comes in."
Brenda Spencer, former Wigan chief executive who worked with Whelan for 15 years: "People that know Dave know he's not racist in any way, shape or form. Dave says things as they are, he's straight and he says things as he feels at that moment. Perhaps he put things in the wrong perspective, but he's definitely not racist and the FA said he wasn't racist. I don't think there's an issue with that."
Has it hastened his exit?
In the club statement confirming his resignation, Whelan admitted he had been "mulling over" the decision "for some years". He also told Sky Sports News HQ: "When you get accused of being a racist it seriously hurts you."
Jackson: "As he's said himself, I don't think it [the FA charge] helped. But he feels the time is right. He's always made decisions with the best interests of the club at heart and he will continue to do so going forwards."
Spencer: "It's very sad that Dave has decided to step down but it has been coming. He's not made it a secret that he's been thinking about stepping down."
Rowley: "Ideally, Dave would have liked to have walked away when Wigan had their greatest day and lifted the FA Cup. That would have been the perfect end to the perfect football story, but the job wasn't complete. They had to stay in the top flight but, three days later, they were relegated to the Championship, so he stayed on last year. Many thought 'one more heave and they'll be back there at the top' but it's not worked out that way."
Who is the new chairman?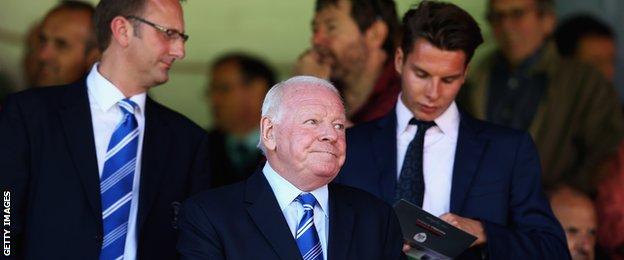 Jackson: "The interviews you'll have heard with the new chairman show that he's been around football for an awful long time. He's been in the environment of boardrooms and he's met many of the senior figures in football. So despite a relatively young chronological age, he's certainly very experienced in football terms."
Spencer: "David has been involved with the club since he was a little boy. He's been to all the games and he's Wigan through and through. He's worked with his granddad over the last 12 to 18 months. It's one of those things, it's a progression. He'll still have the backing of his granddad and he'll have people around him to help him and steer him in the right direction."
Rowley: "His only real experience of running something was the fish and chip restaurant next to the stadium. It was named after him. The fish and chips were very good, I have to say, but more expensive than your standard Wigan chippy. It wasn't in a great position, it was only busy on match days and it eventually closed. He'll be younger than most of the players, so that's going to be intriguing."
How will Whelan's reign be remembered?

Kilbane: "I think you have to cherish the memories of what he's done for the town and the club. It wasn't right, the things that he'd been saying recently, but your ultimate memories of him have got to be FA Cup wins and maintaining Premier League status for those eight years. I'm sure a lot of supporters would feel the same as me."
Roberto Martinez, Everton manager and ex-Wigan boss: "Any professional football club could have the dream of playing in the Premier League and winning a major trophy and he showed the way to do that. It is a great football story and I am sure it will inspire many generations to come."
Taylor: "When he took over, he said he was going to take us into the top flight and bring European football to the club. Everyone was laughing their heads off at home. We thought it was tongue-in-cheek, but you know what? He did it."