World Cup 2018: Colwyn Bay's Moss embarks on road to Russia
By Aled Williams
BBC Wales Sport
Last updated on .From the section Football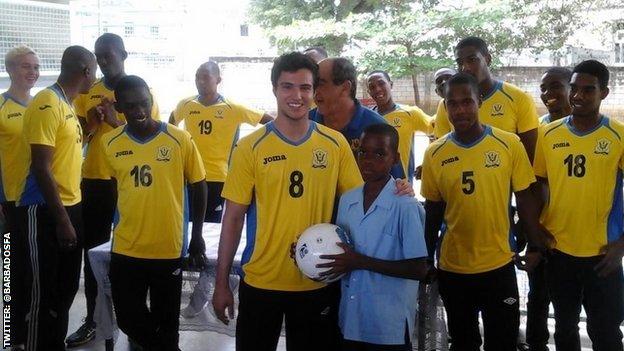 While Wales concentrate on an important Euro 2016 qualifier against Israel, a north Wales-based footballer is already setting his sights on the 2018 World Cup.
So with the cheers that greeted Mario Gotze's extra-time winner for Germany against Argentina in last summer's World Cup final still ringing in our ears, a defender who plays in the Conference North is setting out on the road to Moscow.
Should Barbados, ranked 143rd by Fifa, overcome US Virgin Isles over two legs, they face Aruba in the second round in June and then two further rounds to reach the final six-team qualifying group known as the Hexagonal - a long and difficult road to reach the finals.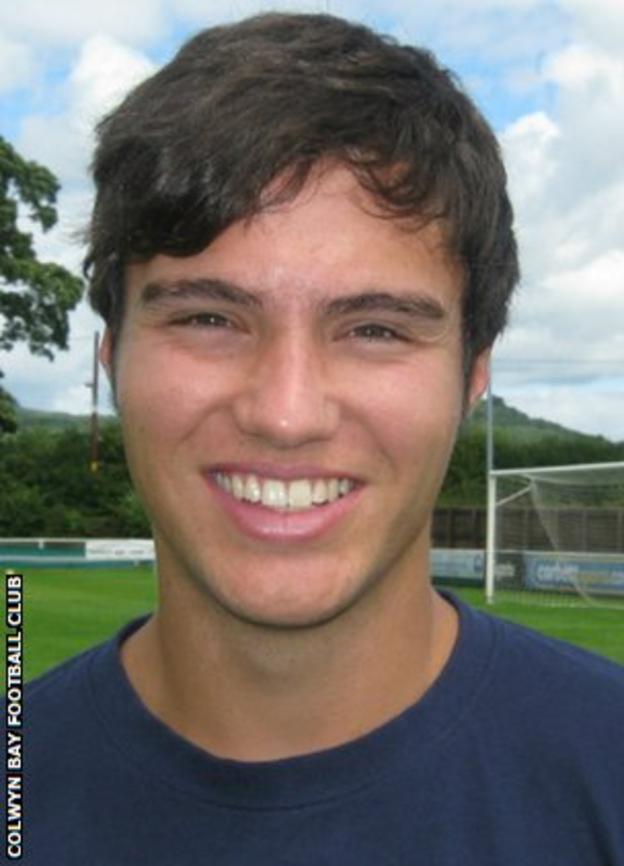 "Unfortunately, when you're ranked so low, that's what you've got to go through," said Moss.
"But from what I gather, everyone is feeling pretty confident about getting through to the next round.
"We've got a good squad and on paper we should beat the US Virgin Islands. I don't know what Aruba are like but I know they are ranked higher than us.
"Hopefully we can go as far as possible and play as many games as we can and be all the better for the experience."
Born in Chester, 22-year-old Moss qualifies for Barbados through his mother and played for the Caribbean island's Under-15 and Under-17 teams before winning his first senior cap in 2011 during his time at Wrexham, a club where father Geoff was chairman.
He won three caps during qualifying for the 2014 World Cup but then did not feature for three years until regional qualifying for the CONCACAF Gold Cup in late 2014, where he played against St Kitts and Nevis, Haiti and French Guiana.
Barbados finished bottom of their group, but Moss is pleased with the progress the side have made since he first became involved with the national side.
"The first time I went, when I was 18, I was a bit unsure about it," Moss said.
"They're very physical and in your face, very good at closing down and to try and stop you from playing. But the standard is a better than people think.
"It wasn't just the football that I enjoyed. It was the whole idea of going to another country and seeing the world in a different light.
"We played against good teams that potentially could have rolled us over but we gave a really good account of ourselves in all of the games.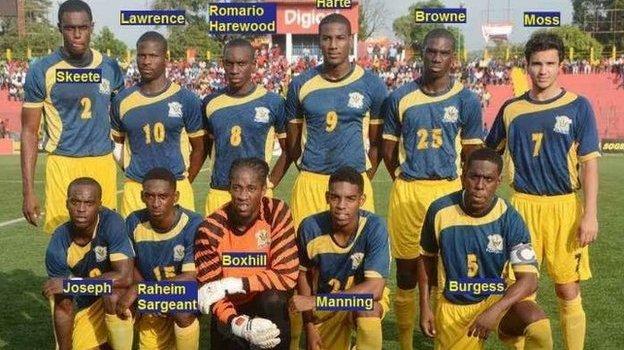 "The standard from our point of view was pretty good and I did all right and they've called me back."
Moss is not the only British-based played to be included in the squad for the first leg in Bridgetown on 22 March and the return leg in Charlotte Amalie four days later.
Emmerson Boyce, Wigan Athletic's FA Cup-winning captain in 2013, has been capped seven times by Barbados and is the national team skipper.
Boyce, 35, is unavailable for the first leg - Wigan host Bolton Wanderers in the Championship the previous day - but the Barbados Football Association is hopeful he will join up for the second leg.
"It would be great for us if he could come out for the game," Moss said of Boyce.
"He's obviously played at a really high level in England and he's our captain and he's a great leader."
Moss is the first Colwyn Bay player since 1930 to win senior international honours and he will miss games against Harrogate Town and Brackley while on World Cup duty.
International Seagulls
John Neal in 1930 was the last Colwyn Bay player before Moss to be capped at senior international level. The Football League refused to allow clubs to release players for internationals if it clashed with a League game. Welsh selectors were forced to pick home based players, including Llandudno-born Neal. The team dubbed 'the Unknowns' and captained by Cardiff City's Fred Keenor gained a 1-1 draw against Scotland at Glasgow's Ibrox Park in October 1930. Neal won his second and final cap in the next match, a 4-0 defeat by England in Wrexham the following month.
Club versus country dilemmas are usually the preserve of top-flight players and Moss admits his international call-up has come at a difficult time with the north Wales side struggling in the Conference North.
"It's going to be hard leaving Colwyn Bay and missing two very important games," said Moss, who spent a four-month spell playing for Ventura County Fusion in the United States Premier Development League.
"We've struggled this year but we've got a good team and good team spirit and everyone at the club is still confident we can get ourselves out of trouble.
"But this was an opportunity I couldn't say no to. I'm at that point in my career where I can't afford to turn down these opportunities.
"Playing for Barbados is something that I really enjoy doing and I want to play as many games as I can and hopefully help the team as much as I can."
UPDATE: Moss will miss the two games after suffering an injury during training ahead of Sunday's first leg.
"The doctor has ruled me out for 4-6 weeks with a Achilles injury. That is football I'm afraid," Moss said.
US Virgin Islands won the first leg 1-0 in Bridgetown but Barbados won 4-0 to advance to the next round where they will face Aruba in June.