Rangers: Kenny McDowall insists there will be no quick fix at club
Last updated on .From the section Football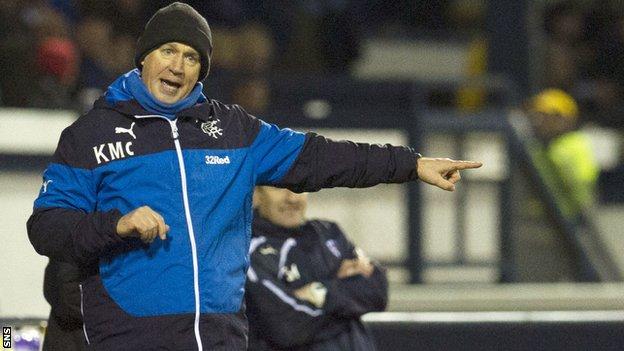 Kenny McDowall believes that, even with regime change at Ibrox, it will be at least five years before Rangers are challenging at the top of Scottish football.
But McDowall insists whoever is in charge will have much work to do.
"It won't be fixed overnight. It'll be at least five years before it's anywhere near what it was," he said.
The club's interim manager reckons the off-field problems of the past four years have left Rangers badly in need of investment in areas such as "scouting, youth academy and staffing".
"The whole infrastructure has got to be looked at, it's pretty much been decimated over the last four years," he added.
"This is a long term project, it's not going to be fixed overnight, no chance. That's why it's so important that whoever comes in, they get it right, whether it be a new coach or manager, it's got to be the right appointment. And it's got to be done from the ground up to give the club a chance.
"I think the fans understand and I'm pretty sure they would be patient, because they know what's went on here and that it won't be fixed overnight."

Rangers are third in the Championship table, 24 points adrift of leaders Hearts, with the play-offs now the Ibrox club's only realistic chance of gaining promotion to the Premiership.
And while McDowall insists Rangers need a dramatic overhaul to become a force in the Scottish game, he does not think another season in the second tier would be beneficial.
"Personally I think the club needs to be in the top league, that's how the club is going to get sorted," he added.
"Whether we could compete in the first season would be there to see, but at least you're up there and can attract better players."
Friday's EGM could spark huge changes at Rangers, but McDowall is focusing solely on football matters.
He is currently working his 12 month notice period and is in the dark about what might happen if shareholder Dave King is successful in ousting the club's current board.
"If it's the current board I wouldn't expect anything to change, if it's somebody new then I'll expect they will come looking for me as oppose to me going looking for them," he added.
"I've made it pretty clear that I'm happy to work 12 months now and, regardless, I think it's probably a good time for somebody new to come in and take it forward. I've had a fantastic time here and nothing lasts forever, but I'm doing my best to keep the club going in terms of winning on the park and trying to get promotion.
"I'm here for 10 months so I'll listen to whatever they are going to put to me."