Johnstone's Paint Trophy: League One & Two clubs hold key
Last updated on .From the section Football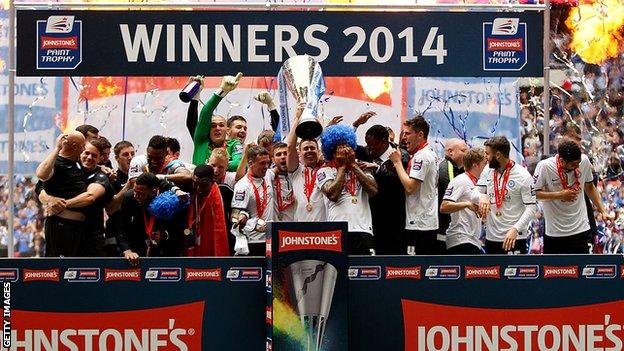 Premier League B teams can only play in the Johnstone's Paint Trophy "with the support of League One and Two clubs", the Football League has said.
The clubs are discussing a plan for Premier League under-21 sides to take part in the competition.
The proposed format would feature 16 groups of four teams with one under-21s team in each group, before a knockout stage leading to a final at Wembley.
The Football Association believes B teams could boost English football.
The tournament, which is currently only for clubs in the third and fourth tier, is a knockout cup with no group stages and a Wembley final.
In a statement the Football League said: "League One and Two clubs were asked to indicate whether they were content to see the Football League progress the matter, which would include discussions with the Premier League and Football Association, so that clubs can consider a full proposal at a future point.
"Therefore, as yet, no club has voted in favour or against the idea of having under-21s teams in The Football League Trophy, they have only indicated whether they wish to consider the matter further."
Minutes from an AFC Wimbledon Supporters' Trust meeting have suggested the League Two club were the only one of 48 to oppose plans at a recent meeting.
"Ultimately any changes to this competition will only happen with the support of League One and Two clubs," the League added.