World Cup 2022: European clubs seek "fair solution" from Fifa

By Richard Conway
BBC Radio 5 live sports news correspondent
Last updated on .From the section Football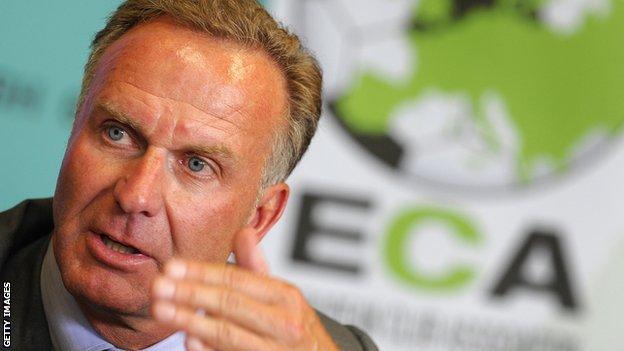 Europe's biggest football clubs are set for talks with Fifa following proposals to switch the Qatar 2022 World Cup from summer to winter.
Negotiations are expected to start with football's governing body in the coming weeks but any conclusion may take time.
The European Club Association includes Chelsea, Bayern Munich and Barcelona.
"The [ECA] board expressed its willingness to take up discussions with Fifa to find a serious and fair solution," an ECA spokesman said.
Last week, Fifa's general secretary Jerome Valcke ruled out paying any compensation to clubs and leagues unhappy about the Qatar date switch, saying there was sufficient time before the tournament starts to rearrange fixtures and competitions.
ECA chairman Karl-Heinz Rummenigge has, however, held "positive" discussions with Fifa president Sepp Blatter in recent days.
What is the European Club Association?
Representative body made up of 214 European top football clubs
Formed in 2008 by 16 founder members, including Manchester United, Chelsea, Bayern Munich, Barcelona and Real Madrid
Also includes Arsenal, Liverpool, Manchester City and Paris St-Germain
Each of Uefa's 53 national associations is represented by at least one club
Chaired by former West Germany player Karl-Heinz Rummenigge
It is believed on-going negotiations over 'player release' payments for the 2018 World Cup in Russia and then the Qatar tournament four years later may provide a mechanism to settle the issue.
Fifa provided clubs with around £45m ($70m) after last summer's World Cup in Brazil. Three-quarters of the players at the tournament were registered with European teams.
Individual payments are calculated through the number of players selected from a particular club to represent their national side together with the number of days each player was at the tournament.
In light of the decision to switch the date for Qatar 2022, the payment levels for the next two World Cups could now rise substantially.