Man Utd v Arsenal: Alexis Sanchez shows Angel Di Maria how to shine
Last updated on .From the section FA Cup

In his regular BBC Sport column, Robbie Savage looks at Monday's FA Cup quarter-final between Manchester United and Arsenal and why Gunners star Alexis Sanchez looks a far more likely match-winner than United forward Angel Di Maria in a battle of South American superstars.
Manchester United's Angel Di Maria will not have to look far at Old Trafford on Monday for an example of why he should be making a much bigger impact in English football.
Like Di Maria, Arsenal's Alexis Sanchez is South American, small in stature and with bags of pace and attacking skill.
Both of them arrived from a La Liga superpower in the summer for massive money, and with a big reputation too.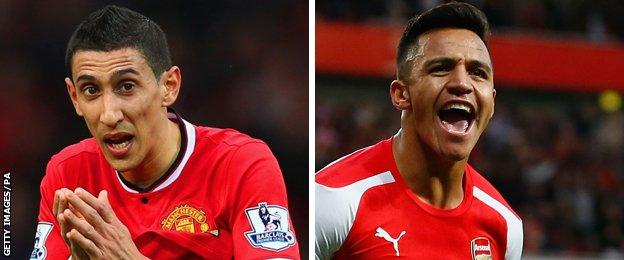 Unfortunately for United's £59.7m man, they do not have much in common when it comes to what they have done since.
For me, Sanchez has been one of the signings of the season at £35m from Barcelona, not far behind Chelsea duo Cesc Fabregas and Diego Costa - who look like they are going to win the league.
In contrast, Di Maria has been the biggest disappointment.
That is not just because his fee was a British record, but when you consider how good he is and what he had achieved before he signed.
'Di Maria was the third or fourth best in the world'
The reason there was such a buzz when United bought Di Maria from Real Madrid in August is that he was up there with the best players in the world.
He was man of the match in last season's Champions League final, which Real won, and he had a great World Cup.
Argentina definitely missed him in the final against Germany and, with him in the team, they arguably would have won it.
He showed that in September, a week after making his United debut, when he went to Dusseldorf and made three goals and scored another to help Argentina beat the world champions 4-2 in a friendly.
Di Maria played on the right flank that night and he was ridiculously good.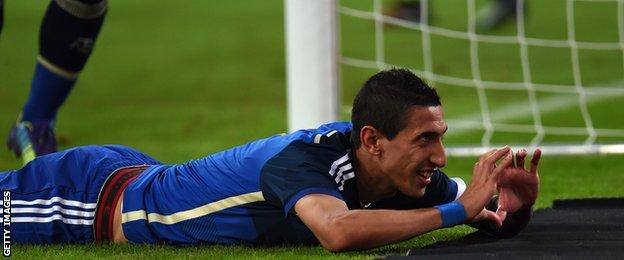 At that point, I would say he was probably up there as the third or fourth best player in the world. There was Cristiano Ronaldo and Lionel Messi... then Luis Suarez or him.
Now? It is like watching a completely different player - and a much less effective one.
Di Maria was back on the right in his last two games for United, and did next to nothing - he was replaced at half-time against Sunderland and taken off after less than an hour against Newcastle. That is just not good enough.
Excuses, excuses…
Over the last couple of weeks I've heard a lot of possible reasons for why Di Maria has been so poor.
They include: "He is new to English football", "he has been injured", "he has had off-field problems", "he has been played out of position", "he has been played in lots of different positions", "United are yet to find a definite style of play", "the whole team is not playing well", "they do not use a system that suits him" and "Louis van Gaal does not want him to play instinctively anymore".
I have got some sympathy for Di Maria, and I especially wish United would play to his strengths, which are running with the ball at defenders down the left or right flank, showing off his pace and dribbling ability.
But even so, there is no question we should have seen more from him than we have done this season.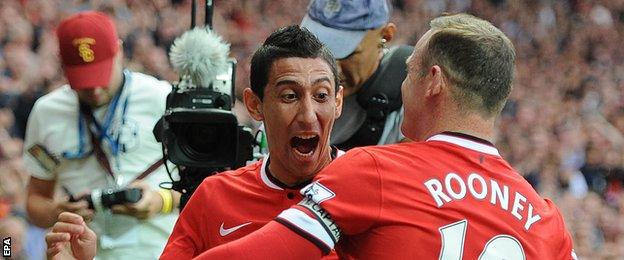 The very best players in the world are able to grab games by the scruff of the neck and lift their team when they are not playing well.
Sanchez has been a great example of that with the way he has regularly made things happen for Arsenal on the days when they have been average and have needed his help to help set the tempo in attack.
There is no way you could say that Di Maria has done the same for United while they have been short of their best form.
Yes he still works hard but, if anything, his performances have been getting worse, not better.
I highlighted on Match of the Day a couple of weeks ago how easily Di Maria was being knocked off the ball.
On top of that, his decision making has been poor and he looks short on confidence.
Getting better, or going downhill?
It might surprise a few people to find out that only Fabregas has provided more Premier League assists than Di Maria this season - he is joint second on that list with eight, and is 11th for minutes per chances created too.
That does not tell the full story of his first season in England, though. You get that when you look at how his statistics have got worse as the campaign has gone on.
Angel Di Maria in the Premier League

2014-15

Before 1 Dec

After 1 Dec

Games

11 (11)

9 (8)

Minutes

838

643

Goals

3

0

Assists

6

2

Shots (on target)

21 (48%)

16 (38%)

Passing accuracy

79.91%

74.69%

Chances created

31

14
All three of Di Maria's Premier League goals and three of his assists came in his first four games, including his brilliant chip against Leicester.
His only goal in his last 19 games was against Yeovil in the FA Cup and he has managed only two assists in his last nine Premier League matches.
Since he returned from a hamstring injury in mid-December his passing and shooting accuracy have decreased and he has created far fewer chances for his team-mates than before.
Yes, as well as being on the left or right of midfield he has been used everywhere from central midfield to up front.
That has not helped but, from what I had seen of him in different positions before he came to United, I still expected him to do better than he has done, no matter where he was playing.
What he needs now is to get his self-belief back. For that to happen, something has to change.
At the moment Van Gaal is starting him, then taking him off - he should either drop him completely for a couple of games or keep picking him and tell him he will play every minute, just to give him some confidence.
The new Veron?
Di Maria has certainly not come close to showing us his true ability yet. The big question is whether he ever will.
Some players are just not suited to English football - and by that I mean the pace of our game.
Take Aston Villa versus West Brom on Tuesday for example. I was there and nobody got a single second on the ball.
In the past, we have seen other proven top-class players in different positions come to the Premier League and fail to perform - people like Andriy Shevchenko or Juan Sebastian Veron.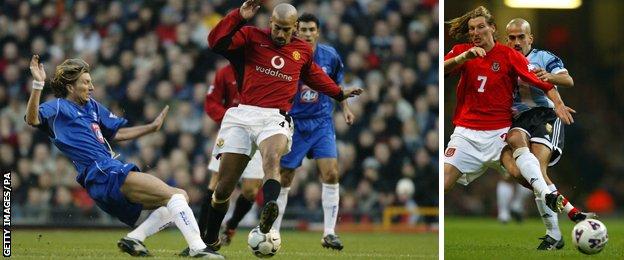 Veron also broke the British transfer record when he joined United for £28.1m in 2001 and the worry for Di Maria is that he is going to follow in his footsteps in another way - by being a fantastically gifted footballer who is an Old Trafford flop.
I remember playing against Veron while I was at Birmingham, and also for Wales against Argentina in 2002. I bossed midfield and was man of the match that day in a 1-1 draw - I still have the bottle of champagne I was given.
Savage on Man Utd v Arsenal
"After seeing how much Newcastle's pace on the break hurt United on Wednesday, the Gunners should try to do the same with their fast players by putting pressure on United's two central midfielders. If Arsenal can nick the ball when Ander Herrera is high up the pitch then they can hurt United. Arsenal should go for it at Old Trafford and I see Arsene Wenger's side winning 2-1."
Like Di Maria, Veron started well and then had sporadic games where he impressed, but he never really kicked on and established himself as a force in the Premier League, at United or Chelsea.
It was too fast and furious for him, and he had players like me flying into him and not giving him the sort of time on the ball that you get in La Liga or Serie A.
What happened to Veron just goes to show that you can be an absolute top-notch player but it does not mean you are going to make it in England.
Only time will tell if Di Maria goes the same way.
Robbie Savage was speaking to BBC Sport's Chris Bevan