Rangers: No Nomad and a share freeze - what does it mean?
By Douglas Fraser
BBC Scotland business and economy editor
Last updated on .From the section Football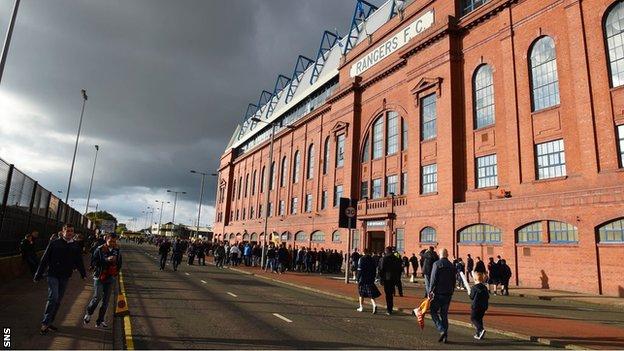 If you own shares in Rangers International Football Club, you won't be able to sell them on the stock exchange for a while.
There's also a symbolic effect: it's yet another embarrassment, underlining the company's many problems.
And this has the additional effect of exerting pressure on Dave King, the challenger in the battle for control of the boardroom, who already thinks he's won "by a landslide".
The suspension followed the resignation of WH Ireland, the nominated adviser, or Nomad.
Every company listed on the exchange has to have a Nomad. Its role is as "primary regulator", working closely with both directors and with the exchange administrators to make sure that membership rules are being obeyed.
To win the trust of investors, stock exchanges require that listed companies abide by rules of governance and transparency. The Nomad's registration and reputation depends on policing these rules in each company.
The reasons given for WH Ireland's resignation were not clear. One could be that the promise it had secured on its appointment last year, to boost the size and experience of the board, has not been delivered.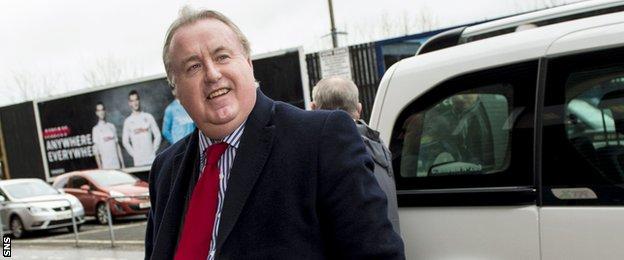 Indeed, with the chairman's resignation on Monday, the pledge had gone into reverse. There are only two directors left, and Dave King wants both of them out.
But, if the statement from Rangers on 6 February is any guide (and it had to be extensively and embarrassingly corrected last week), the latest move has more to do with the question of whether Dave King is qualified to serve as a director.
One question is over his track record in South African business. After a long-running, high-profile legal tussle, he pleaded guilty to 41 charges of breaking the country's tax laws, paying £40m-worth he owed, and a hefty fine.
Even if that makes him fit and proper to be a company director, his previous period on the board at Ibrox, of a similarly named company that went into liquidation, requires that he get court approval before he can serve on the board of a successor company. So too with his ally, Paul Murray.
Add to that the separate set of rules within the Scottish Football Association about its members' directors being "fit and proper" people.
Dave King has acknowledged he's got a problem on his hands, though he's left some doubt as to which problem he has in mind.
It's possible to control a club without sitting on the board. Sir David Murray did so at Rangers for some time. And Dave King says he is willing to stay off the board until any such problems have been worked through.
But there's now another clock running. Not only has the current management raised doubts that Dave King can count on drawing down the £5m loan from Sports Direct's Mike Ashley, which is vital to getting Rangers through this month, but securing another Nomad is a new obstacle for the Ibrox management. There's only a month to do so before being struck off the stock market.
If that happens, raising capital becomes harder, and more expensive.
Nomads, of course, can usually be found wandering in deserted wastelands. In the case of Rangers... well, make up your own punch line.